Leona W. Ayers, M.D. Honored as a Most Influential Business Professional for 2019 by Strathmore's Who's Who Worldwide Publication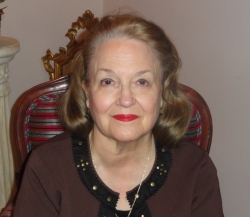 Dublin, OH, January 16, 2019 --(
PR.com
)-- Leona W. Ayers, M.D. of Dublin, Ohio has been honored as a Most Influential Business Professional for 2019 by Strathmore's Who's Who Worldwide for her outstanding achievements and high level of success for over 40 years in the fields of education and medical research.
About Leona W. Ayers, M.D.
Dr. Leona W. Ayers, M.D. currently serves as an Academy Professor of the Emeritus Academy at The Ohio State University in the Department of Pathology, College of Medicine, in Columbus, Ohio. She stepped down from her full tenured Professorship to join the Emeritus Academy in 2015. Dr. Ayers taught Pathology to medical students, pathology interns and residents, and medical technology students. While part of the Graduate School faculty, she directed 26 graduate and professional students.
In addition to being an esteemed member of the medical staff of the Wexner Medical Center where she has held various directorships and practiced pathology in the areas of Clinical Pathology, Medical Microbiology and Infection Control, Dr. Ayers was part of the consulting medical staff at The James Cancer Hospital and Solove Research Center. She currently holds medical staff privilege as a "Physician Scholar." She is a member of The Ohio State University Comprehensive Cancer Center and has been honored as an Outstanding Microbiologist in 1982, awarded the Earline Kutscher Memorial Lectureship in 1991, selected as Foundation Lecturer for the National Foundation for Microbiology Lectures Program for 1998-2000 and was elected to the OSU Emeritus Academy in 2014. She was recognized on the Reuters Billboard in Times Square in New York City and has been a guest on a recent Podcast.
Throughout her outstanding career, Dr. Ayers has been an invited speaker for 256 presentations at regional, national and international meetings and workshops, presented or published with colleagues 239 abstracts/posters at national and international meetings, 114 peer-reviewed Journal articles and 14 book chapters. Some of her recent publications prepared with her esteemed colleagues include:
"Genome-wide discovery of somatic coding and non-coding mutations in pediatric endemic and sporadic Burkitt lymphoma." Blood. Jan 7, 2019.
"Associations between IgG reactivity to Plasmodium falciparum erythrocyte membrane protein 1 (PfEMP1) antigens and Burkitt lymphoma in Ghana and Uganda case-control studies." EbioMedicine Dec 19, 2018
"Mast cell activation and KSHV infection in Kaposi Sarcoma", Clin Cancer Res., Oct 15, 2018
"Evaluating the Causal Link between Malaria Infection and Endemic Burkitt Lymphoma in Northern Uganda: A Mendelian Randomization Study," EBioMedicine in press on 10/3/2017
"Burkitt Lymphoma Expresses Oncofetal Chondroitin Sulfate without being a Reservoir for Placental Malaria Sequestration," Int J Cancer 140 1597-1608 on 4/1/2017
"Selective Inhibition of Protein Arginine Methyltransferase 5 Blocks Initiation and Maintenance of B-cell Transformation," Blood 125 2530-43 on 4/16/2015
"A review of the Pattern of AIDS Defining, HIV Associated Neoplasms and Premalignant Lesions Diagnosed from 2000-2011 at Kenyatta National Hospital Kenya," Infect Agent Cancer 10 28 on 1/1/2015
"EBV-Positive Grey Zone Lymphoma in an HIV Infected Man from Kampala, Uganda: Case Report," Int J Med Pharm Case Reports 2110-116 on 11/15/2014
Dr. Ayers has been funded by National Cancer Institute (NCI) grants for the last 24 years. These grants were given to support her research interests and HIV/AIDS related cancer diagnosis capacity building in the U.S., sub-Saharan Africa and India. As a Principle Investigator (PI) of the NCI MR AIDS and Cancer Specimen Resource, she organized and implemented the Sub-Saharan Africa Lymphoma Consortium with pathologist participants from East Africa (Uganda, Kenya), West Africa (Nigeria), South Africa (Johannesburg, Cape Town) and Europe. Dr. Ayers served as a leader in the first workshop in India on Research Methodologies for the study of HIV/AIDS associated malignancies. She has held memberships and served on committees of the College of American Pathologist and American Association of Clinical Pathologists, International Society Biological and Environmental Repositories and the United States and Canadian Academy of Pathology. For the last 10 years, she has served as PI of the Cooperative Human Tissue Network, MW Division, Grant (CHTN/NCI/NIH).
After obtaining her B.S. in Zoology in 1962 from Duke University, Dr. Ayers graduated with a M.D., with Honors, from Duke University School of Medicine in 1967. She has been inducted into the Duke University School of Medicine Half Century Club. She holds a Certificate of Qualification from the American Board of Pathology in Clinical and Anatomical Pathology and has special expertise in infectious diseases pathology and research interests in HIV/AIDS related malignancies.
"People are forever interesting"—Leona W. Ayers, M.D.
To listen to Dr. Ayers' Podcast on powerwoe.com, go to
www.soundcloud.com/user-498580759/leona-ayers-power-podcast
.
About Strathmore's Who's Who Worldwide
Strathmore's Who's Who Worldwide is an international advertising, networking and publishing company based in Farmingdale, New York. They are proud to be able to satisfy their clients and continue to have repeat clientele due to their longevity and pride in their products and services. The Owners strive to connect business professionals to enhance their contact base and networking capabilities so they can get the acknowledgment and publicity within their industries and beyond. The Strathmore family has been providing these valuable services for over two decades. They target executives and professionals in all industries to be featured in their publication and on-line directory. Industries include business, law, education, healthcare and medicine, fine arts, IT, government, science, real estate, entertainment and many more accomplished fields. Professional profiles are listed in an annual hardcover journal and in a detailed, searchable database on the website www.strww.com.
Contact
Strathmore Worldwide
Susan Perrault
516-677-9696
www.strathmoreworldwide.com
Syndi Reibman

Contact