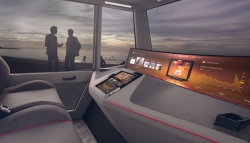 Las Vegas, NV, January 09, 2019 --(
PR.com
)-- Bamboo Apps, a trusted supplier of comprehensive agile software development and design services for OEMs & mobility companies, presents its new concept:
a futuristic interior design
and a suite of connected car control apps delivered to "microSNAP," a new autonomous vehicle unveiled by Rinspeed, a Swiss car design powerhouse. "microSNAP" is now available for CES 2019 visitors at Harman booth in Hard Rock Hotel.
For "microSNAP," Bamboo Apps has developed a unique UX/UI design for a coast-to-coast display based on smart co-driving features and shaped by Level 5 Autonomy. Addressing the challenges of a next-generation mobility business, Bamboo Apps has created fully digital in-car experiences that meet the needs of ever-increasing shared mobility and last-mile delivery.
"Futuristic HMI design provided by Bamboo Apps is a long-term vision of how disruptions in the automotive industry will impact the user experiences in cars," said Igor Ponikarchik, CEO, Bamboo Apps. "The goal we set for ourselves was to address the rising trend of smart co-driving and build a cockpit architecture tailored to the needs of changing passengers."
To make the most of the smart mobility, Bamboo Apps also brings a new "steering wheel" concept based on a control panel allowing to operate the car via a connected car app interface. The solution connects robust in-car technologies with various mobility offerings and infotainment services within a single screen. Due to the high level of personalization provided, co-drivers can individually use applications to suit their needs while enjoying the shared driving experience.
"As the driving situation is moving towards more automation, the way people think about and use cars change dramatically. The coming era of the Level 5 Automation poses new demands on the HMIs as well as on the collaboration between the human and machine," said Igor Ponikarchik. "As a trusted software supplier and partner, Bamboo Apps is enabling more personalized, connected and autonomous in-car experiences, all of which are captured in the new Rinspeed's microSNAP."
For more information, please
visit the company website
.
About Bamboo Apps
Bamboo Apps offers comprehensive agile software development and design services that enable OEMs and mobility companies to launch connected car services, infotainment products and mobile apps including proofs of concept, R&D, with various 3rd party integrations.
The company is proud to take part in the complete transformation of the industry by challenging conventional thinking and supporting automotive and mobility companies with the right resources.