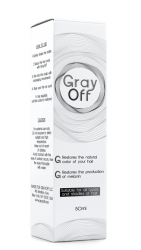 New York, NY, January 10, 2019 --(
PR.com
)-- GrayOff LLC, based in USA, recently presented their hair care product in Asia. Now, GrayOff spray is available in Europe and Africa as well. In Europe, the product can be purchased online in France, Italy, Czech Republic, and Slovakia. Kenya, Senegal and Tanzania are the first three African countries where GrayOff spray can be bought, again online. There is a new website of the product for Europe and Africa - grayoffhaircare.com.
GrayOff spray is intended to restore the natural colour of the hair as opposed to dyes, and also to boost the production of melanin, giving the hair its natural colour.
GrayOff hair care spray's list of ingredients include Ginseng (delays the appearance of gray hair and restores the production of melanin, the pigment that provides the natural hair colour), Lovage Root (protects the hair follicles, and stops the process of discoloration and restoring the hair colour), Sesame (essential for the production of melanin), and Tuber Fleeceflower (strengthens hair follicles and improves pigmentation).
GrayOff hair spray is a new product in Europe and Asia, so manufacturing company has announced 50% discount for limited period of time.