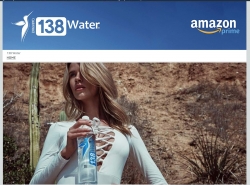 Los Angeles, CA, January 11, 2019 --(
PR.com
)-- "138 Water" with Ultra Premium Alkaline Water bottled under its trademark licensed to Clairvoyance is excited to announce it has reached its goal in E-Commerce Sales Strategy by launching its highly anticipated online store exclusively on Amazon Prime in January 2019.
"Fullfilled by Amazon, 138 Water is now available nationwide and can literally reach any home in the USA, offering Free Shipping and 2-Day delivery to its consumers," said Thibault Mauvilain, Founder of 138 Water. "This is a tremendous step for 138 Water, as we continue towards our goal of becoming the most popular bottled Alkaline Water to the millenials in the US," concludes the CEO of 138. "We have done an amazing job adapting to the large Premium Bottled Water market and found a niche by becoming one of the sexiest brands on the internet and promoting Healthy and Fashionable Lifestyles."
The E-Commerce market continues to expand rapidly, with consumers spending over $450 billion online in 2018, with food and beverages purchases accounting for more than $60 billion of those sales, according to the U.S. Department of Commerce. Bottled water is a massive force in the beverage industry. In 2018, the carbonated-soft-drink category declined 1.3% by volume, while bottled water grew 6.2%. According to Mintel, nearly half of all consumers say they want to consume less sugar in 2019. But they also expect convenient, high-quality food and beverages that fit into their fashionable lifestyles.
In 2019, 138 Water will focus on marketing the brand to a larger consumer base for the E-Commerce platform. 138 is slightly more expensive than its competitors but Amazon, which sells a number of inexpensive bottled water products, is said to be moving away from selling bulky, inexpensive items like bottled water that "Can't Realize a Profit" - a category of products also known as "CRAP."
About 138 Water
138 Water offers beautifully packaged, high end colored bottles of Ultra Premium Alkaline Water available in eight different colors. The original eight colord labels of 138 Water – are available nationwide via Amazon Prime and in selected retailers in Los Angeles. Grammy-nominated multiplatinum hip-hop star Tyga is also partner shareholder in 138 Water, a favorite brand among the new generation of millenials. Over the past four years, 138 Water has advertised on countless ultra sexy billboards, and produced a myriad of padverts with Celebrities, World renowened Artists, Top Models, Social Media Influencers and Public Figures.
www.138water.com
138 Water | Clairvoyance
2934 Beverly Glen Circle #138
Los Angeles, CA 90077 USA
info@138Water.com