Top Auckland Dentist Unveils New, Eclectic Website with First-Rate Design
Dr. Clarence Tam, a leading cosmetic dentist and Chairperson of the New Zealand Academy of Cosmetic Dentistry, offers an in-depth look into the entire gamut of today's most popular dental treatments via a newly designed dental website.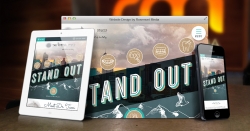 Auckland, New Zealand, March 28, 2019 --(
PR.com
)-- As the first and only New Zealand
cosmetic dentist
board-certified by the American Academy of Cosmetic Dentistry (AACD), Dr. Clarence Tam is used to taking an out-of-the-ordinary approach to her dental practice and her services. Fittingly, Dr. Tam recently collaborated with Rosemont Media, LLC - a San Diego-based digital marketing company - to create an unconventional and comprehensive educational resource for Auckland patients that mirrors the unique quality of her expertise.
The interactive philosophy that informs Dr. Tam's practice is embodied by the elite dental website of Tam Dental Group, which is fully responsive and viewable from any screen size or mobile device. Similar to the way Dr. Tam strives to connect with her patients in order to understand their needs before developing a treatment plan, the unconventional site design provides users with a thorough introduction into popular treatments like
porcelain veneers
and Invisalign® before scheduling a consultation. With custom-written procedure pages detailing a wealth of information on the latest treatments in family dentistry, cosmetic enhancement, and full mouth reconstruction, the new site educates individuals on everything they need to know about how to embellish their smile and optimize their oral health in the process. Moreover, a fully loaded patient gallery equipped with interactive before-and-after photo sliders further highlights the site's user-friendly design while giving visitors insight into what can be achieved with a given dental treatment.
True to Dr. Tam's unique approach to cosmetic dentistry, the untraditional
dental website design
of Tam Dental Group highlights the innovation and cutting-edge techniques utilized by the practice. Targeted content marketing and
search engine optimization
strategies woven throughout the pages also work to position the website in front of the very users seeking relevant information. With a practice philosophy characterized by minimally invasive methods and maximal aesthetic appeal, Dr. Tam launches the site in hopes that her newly revamped web presence will provide an easily navigable yet enlightening resource into the top-of-the-line treatments that can help Auckland patients reach their smile goals.
About Clarence Tam, HBSc, DDS, AAACD, FIADFE
Dr. Clarence Tam
is a highly experienced cosmetic and restorative dentist based in Auckland, New Zealand, and is the lead clinician at Tam Dental Group. A native of Toronto, Canada, Dr Tam completed her Doctor of Dental Surgery from the University of Western Ontario and received her General Practice residency training at the University of Toronto. After graduation, she became the first and only dentist in New Zealand board-certified by the American Academy of Cosmetic Dentistry (AACD). Dr. Tam also serves as the Chairperson of the New Zealand Academy of Cosmetic Dentistry and holds Fellowship status with the International Academy for DentoFacial Esthetics. When she is not at her practice, Dr. Tam engages in clinical dentistry research and is an opinion leader for several multinational dental companies. Dr. Tam is available for interview upon request.
To learn more, please visit www.clarencetam.co.nz or www.facebook.com/DrClarenceTam.
To view the original source of this release, click here:
https://www.rosemontmedia.com/dentists-blog/top-auckland-dentist-unveils-new-eclectic-website-with-first-rate-design/
Contact
Tam Dental Group
(09) 524 8399
www.clarencetam.co.nz
Upstairs, 18 Morrow Street
Newmarket, Auckland 1023
(09) 524 8399

2A Fleet Street
Devonport, Auckland 0624
(09) 445 4574

Rosemont Media
(858) 200-0044
www.rosemontmedia.com

Contact