Introducing the Geiger-Lund Model 2019 Selective Asparagus Harvester
Geiger-Lund Harvesters is introducing its new model 2019 selective asparagus harvester. According to Geiger-Lund, the machine will dramatically reduce the cost of labor to harvest asparagus by eliminating the field labor. Geiger-Lund has just sold its second machine to a grower in Sweden, having sold the first machine to a grower in Arizona. This coming spring the machines will be available for viewing while they operate. Viewing details will be posted on its website in March.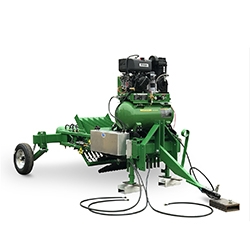 Stockton, CA, January 31, 2019 --(
PR.com
)-- According to Geiger-Lund, their new selective asparagus harvester will dramatically reduce the labor costs for harvesting asparagus by completely eliminating the expensive field labor that does the harvesting now.
The machine fills lug boxes, (the same boxes the hand crews use), and full boxes are traded for empty boxes at the ends of the rows or as needed just as is done now. The harvested spears are all oriented in the same direction in the box so it is easy to transfer the spears to a conveyor belt at the packing shed.
The Model 2019 asparagus harvester looks complex, but in reality it is quite simple. This is important because an asparagus harvester must be easy to fix should something go wrong. The machine is about the size of a VW Bug, and weighs only 2000 pounds.
With beds on 60 inch centers and the machine running at 2 mph, the machine will harvest about 1.2 acres per hour and can be run 24 hours a day.
Geiger-Lund sold a machine in Arizona last year and they are delivering a machine to a grower in Sweden shortly. If all goes as planned, interested growers will be able to see the machines run with their own eyes in either Arizona or Sweden this coming season.
Details about how to view the machine next season will be available on the company's website sometime in early March of 2019.
For more information about the machine please visit
www.asparagusharvester.com
.
Contact
Geiger-Lund Harvesters
Bill Lund
209 464 7746
http://www.asparagusharvester.com
Ask for Bill or Roger

Contact