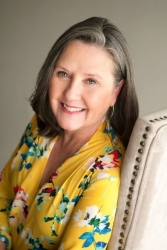 Lexington, NC, February 04, 2019 --(
PR.com
)-- In preparation for another year of ministry to the Davidson Correctional Center of Lexington, North Carolina, the Davidson Prison Ministry of Lexington is excited to introduce the ministry officers for 2019. At the January board of directors meeting the board unanimously elected Cathy Robertson to serve the ministry as President and Reverend Scott Slaughter as Vice President.
"Ms. Robertson's heart and vision for DPM to share the love of Jesus Christ with the DCC inmates gives us great encouragement as we prepare to move the ministry forward. We are excited about the way God is moving in this ministry. There are great spiritual and physical needs in our community and in the DCC that the Davidson Prison Ministry hopes to be able to address in the coming years," stated Reverend Scott Slaughter, Senior Pastor of Coggins Memorial Baptist Church, Lexington.
"Reverend Scott's passion for sharing the gospel in our community is contagious. He has a tremendous amount of ministry experience and a clear vision for preaching and teaching. He will be a great asset to our board," said Ms. Robertson.
In grateful appreciation the DPM Board of Directors would like to recognize the Reverend Eddie Scott for his years of humble and wise leadership with which he guided this ministry as President of the Board. Rev. Scott's devotion to reaching the inmates of the DCC has been inspirational to each of us and to Chaplain Tim Martin in this important work.
Other board officers are Chaplin Tim Martin who serves DCC on the behalf of the DPM and leads all the ministry efforts of the DPM to serve the staff and inmates of the DCC. We are grateful to God for his compassion and selfless ministry for Christ. Immediate past President, Reverend Eddie Scott, Secretaries, Mrs. Newell Davis and Mrs. Becky Myers. Serving as ministry Treasurer is Mrs. Geryl Myers. Each Board of Directors meeting starts only after prayer and a Scriptural thought to guide the ministry led by Ms. Arianna Lester.
The Davidson Prison Ministry is a community funded 501c, Christian organization providing chaplaincy, encouragement and resources to the staff and inmates at the Davidson DPM Correctional Center (a minimum security state prison). Contributions to the Davidson Prison Ministry are greatly appreciated and tax deductible. If you would like to support this important Christian Ministry you may send your donation to Post Office Box 2131, Lexington, NC 27293.
Like Davidson Prison Ministry on Facebook and stay updated on important gospel work.