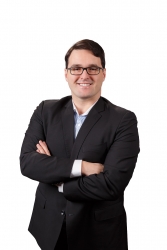 Calgary, Canada, February 22, 2019 --(
PR.com
)-- Supply & Demand Chain Executive recognizes supply chain executives, and manufacturing and non-manufacturing enterprises, that are leading initiatives to help prepare their companies' supply chains for the significant challenges of today's business climate. This year's list includes the 2019 Provider Pros to Know - individuals from software firms and service providers, consultancies or academia, who helped their supply chain clients, or the supply chain community at large prepare to meet these challenges - and Practitioner Pros, who do the same within their own companies.
"Our Pros to Know listing showcases the leaders and innovators shaping the profession and making substantial impact on their companies," says John Yuva, editor for Supply & Demand Chain Executive. "We commend this year's recipients for their achievements in supply chain and for paving the way for the next generation of exceptional supply chain leaders. This year's recipients embody the commitment to transformative supply chain tools and processes, earning these individuals a rightful place in this year's Pros to Know listing."
Mark Raffan coaches supply chain and procurement teams to "do more with less" by teaching how to use a company's existing resources to increase profitability. Mark's success comes from showing procurement professionals how to reduce the cost of acquisition while increasing the volume of sales. Mark is a 2019 Pro to Know because of his knowledge in increasing performance, profitability, productivity, and building great procurement and sales teams.
About Negotiations Ninja
Negotiations Ninja
develops and delivers the most engaging negotiation training and content in the world. Utilizing Mark Raffan's extensive experience speaking to executives and their teams on the topics of negotiation, Negotiations Ninja leverages the data and teams that already exist in a business to drive more value by providing companies with the tools they need to succeed. Having worked as a high-level negotiator in C-suite negotiations for several years, Mark knows what it takes to get better deals.