Bespoke Wedding Suits for the LGBTQ Community - Online or in Person at My Custom Tailor
For the LGBTQ community My Custom Tailor represents the perfect source for buying custom-made clothes that meet the needs of all individuals irrespective of their gender, gender identity or sexual orientation.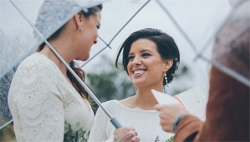 New York, NY, March 05, 2019 --(
PR.com
)-- With three generations of experience in bespoke services, My Custom Tailor has been providing specialized
clothing for same-sex couples
including
wedding suits for gay couples
and
wedding suits for lesbian couples
for many years. When members of the LGBTQ community struggle finding clothes that they like and that suit their needs or even fit them properly, My Custom Tailor aims to address that challenge; to ensure that the clothes they create are personalized to retain individuality and identity.
My Custom Tailor offers personalized pieces and suits and will ensure that all clothing adhere to the theme of any wedding. As a LGBTQ friendly company, My Custom Tailor caters to all the sartorial needs of all individuals irrespective of their gender, gender identity or sexual orientation. From shirts, trousers, blazers, coats, overcoats and topcoats, to made to measure three-piece suits and custom pajamas, these tailors are experienced in creating a variety of custom-made clothing.
The Master tailors from My Custom Tailor are capable of meeting the needs of their LGBTQ, Transgender and cross-dressing customers. Among their specialties are making
custom shirts and custom suits for transgender people
, with a custom fit much better than anything available off-the-rack.
My Custom Tailor is a well-known name in the LGBTQ community for bespoke and custom-made clothing for transgender people. The company caters to the requirements of people of every gender and sexual orientation, they make sure their clientele can order any type of clothing they require for every occasion.
At My Custom Tailor, what you desire from your suit is their primary motivation.
Custom-made suits are tailored
to fit the person they have been made for. My Custom Tailor believe that every person deserves to look their best and feel good about themselves. When it comes to variety, style, and color, the options are plentiful. Among the types of suits available are: Business Bespoke Suits, Custom Double-Breasted Suits, Men's 3 Piece Suits, Tuxedos and Dinner Suits, and Tailed and Morning Suits.
To access these experts in custom clothing, you can order everything via their website: www.MyCustomTailor.com. From suits, vests, overcoats, pants, tuxedos, and blazers, My Custom Tailor makes a variety of clothing for everyone, even custom jeans and shorts. Free shipping is also available.
A unique service provided by My Custom Tailor is that to order a suit you don't have to visit them, they will visit you. Just make an appointment with the travelling tailor and one of their visiting tailors will visit you to measure you for your bespoke suit. The tailors are well-trained professionals who take all the required measurements personally so that your suits fit as well as possible. They also pay particular attention to detail and to the finishing of the clothing.
As the company goes above and beyond, customers place the highest amount of trust and confidence in My Custom Tailor. Another major benefit is their pricing transparency. The company motto is "Great custom clothing at an affordable price!"
Contact
My Custom Tailor
Richard Dawson
1-646-257-5886
MyCustomTailor.com

Contact
Multimedia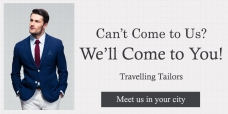 Get measured in person by the Travelling Tailors at My Custom Tailor

Custom suits and bespoke shirts made by the expert craftsmen at MyCustomTailor.com ensure perfect fit and total comfort.