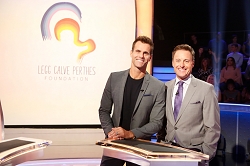 Washington, DC, February 21, 2019 --(
PR.com
)-- The Legg Calve Perthes Foundation, dedicated to improving research, education, advocacy and awareness of Perthes Disease will be featured on "Who Wants to Be a Millionaire" this month. The show will air on Tuesday, February 26, 2019 on the nationally syndicated show. Cameron Mathison will play and donate his earnings to the Legg Calve Perthes Foundation. Mathison also serves as an honoree board member for the Legg Calve Perthes Foundation. The well-known TV host and actor has extensive personal experience with Perthes Disease, living through the diagnosis as a child.
Legg Calve Perthes Disease is a childhood hip disorder initiated by a disruption of blood flow to the ball of the femur called the femoral head. Due to the lack of blood flow, the bone dies (osteonecrosis or avascular necrosis) and stops growing. Perthes Disease usually occurs in children aged 4-10 years; boys are affected three to five times more often than girls. The life cycle and regrowth of the disease process can take several years and is often accompanied with pain, which can lead to osteoarthritis in adulthood. Perthes disease is one of the most common hip disorders in young children. The lifetime risk of a child developing the disease is about one per 1,200 individuals. Today there is no known cause or cure.
"I am so honored to play and donate earnings from Millionaire to the Foundation," said Mathison. Foundation founder Colleen Rathgeber is equally honored stating, "Regardless of the earnings from the show, the opportunity to raise awareness of this rare childhood hip disorder on a national stage is incredible and we are so grateful to Cameron for choosing the Foundation."
Mr. Cameron Mathison, a Canadian born actor, currently lives in Los Angeles CA with his wife and two children. He spent several years of his career as an actor on ABC's "All My Children." Mathison currently works as a co-host on Entertainment Tonight and is the star of several Hallmark Network movies and Hallmark's Home and Family series. Who wants to be a Millionaire, is hosted by Chris Harrison who is best-known for his 15 years as the popular host of ABC's hit romance/reality series "The Bachelor" and "The Bachelorette."
For additional information on how to volunteer or donate to the Foundation, contact Colleen Rathgeber at 202-505-9360 via email at colleen@perthes.org.
About Legg Calve Perthes Foundation
The Legg-Calve-Perthes Foundation is a national health and educational organization dedicated to helping adults living with Perthes, families with children diagnosed with Perthes, and providing support with associated difficulties that often come with the Perthes diagnosis. The Foundation's mission is to create a centralized support community to improve the research, education, and awareness of those diagnosed with Perthes.
About "Who Wants to Be a Millionaire"
"Millionaire" airs across the country weekdays in national syndication. To tune in, find your time and channel at MillionaireTV.com. "Millionaire" is produced by Valleycrest Productions Ltd. and is distributed by Disney ABC Home Entertainment and Television Distribution. James Rowley serves as executive producer of "Millionaire," which is taped at Bally's Las Vegas in Las Vegas, Nevada.
Further details about Legg Calve Perthes Foundation can be found at Perthes.org.