Ean Athletics is a Start-Up Sports Brand That Has Arrived to Enter the Market Strong with Its First Launched Product Line of Athletic Sports Socks
This brand is said to be unlike its competition and has entered the marketplace with the intentions to crush the competition. "Ean Athletics" just launched its site of custom athletic sports designs. Expansion of this product's variety is imminent, and the hard work and determination of this team of sports apparel designers are well above average in creativity.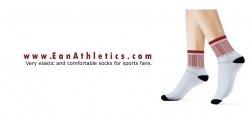 Cahokia, IL, March 05, 2019 --(
PR.com
)-- The Ean Athletics Brand
The EAN (barcode) identifies a product using a 13 digit numerical code. This code can be found on retail merchandise world-wide. Ean Athletics, created by two brothers, one whose name is Ean, and the brother behind the brand.
Deontae Beard is a former Lindenwood University student that has placed his curriculum to the side to pursue his dream as an aspiring entrepreneur. Deontae's ambitions are clear and precise to lead the team to a victory this year. Deontae evolved through a tough pastime, and plans to sweep the sports industry off its feet with a very unique brand of athletic sports accessories. While focusing on taking time in evolving one product at a time, this design team is very hopeful in its endeavors. This idea came up during a discussion about the meanings of names, and one of the siblings just turned out to be Ean. Ean's name has the exact pronunciation as the barcodes found on consumer products. It did not take Deontae long to recognize the opportunity and took quick action to bring about "Ean Athletics."
The Ean Athletics brand launched its site March 3rd, with unique designs that will capture the interest of sports fans everywhere. Whether that be the sports fanatic, or just the love of a comfy pair of custom socks that make a bold statement; its a brand unlike any other.
For very elastic and comfortable socks visit
www.eanathletics.com
Contact
Deontaes Multimedia Publishing
Darius Conley
314-497-0909

Contact