"Dogs and Autism" Now Available from Future Horizons
Author Annie Bowes grew up having dogs throughout her childhood and adulthood that helped her with her autism. Her love of animals, especially dogs, eventually helped her find her passion in life to help animals and become a veterinarian. Through many years of working with dogs in her practice, she grew interested in how canine companionship helps people with autism.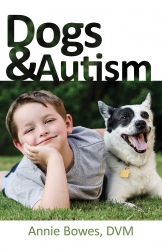 Arlington, TX, March 06, 2019 --(
PR.com
)-- "Dogs and Autism" is now available from Future Horizons.
Dogs speak autism.
Author and veterinarian Annie Bowes discovered at a young age that having a dog was invaluable. From encouraging a healthy, active lifestyle to providing unmatched emotional and social support, a dog is the perfect companion for anyone, but especially those with autism. Bowes discusses the countless ways the understanding, acceptance, and boundless love of a dog benefits everyone-particularly those on the spectrum.
Some topics include:
- The "Pet Effect
- Finding the Right Dog for You
- The Human-Animal Bond: The Science is There
- Training Your Dog
- Dogs are Heroes
- Dogs Understand Autism
And more
True acceptance doesn't come with that high of a price tag - it comes with a wagging tail and four legs.
Contact
Future Horizons, Inc.
Morgan Gardner
817.277.0727
https://www.fhautism.com/

Contact