Flying Motorcycle Now on Sale
Jetpack Aviation Delivers Safe Personal VTOL Flight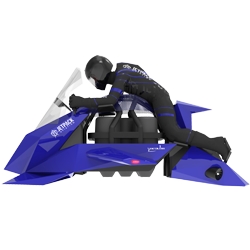 Van Nuys, CA, March 06, 2019 --(
PR.com
)--
JetPack Aviation
, the market disrupting leader in personal flight engineering, unveiled plans today for the world's first turbine powered flying motorcycle. Dubbed "Speeder," the compact, easy-to-fly computer stabilized vehicle is the size of a standard motorcycle and delivers unprecedented speed, lift and safety. The sleek design makes Vertical Takeoff and Landing (VTOL) possible from an extremely small footprint, and the quad turbine jet propulsion system powers flight speeds exceeding 150 mph with altitudes surpassing 15,000 ft. The Speeder can be piloted or flown fully autonomously carrying loads greater than 400 lbs.
Video
Speeder is the brainchild of company CEO David Mayman who also co-created the only FAA approved turbine powered JetPack. In 2015, Mayman amazed the aviation world with his first public flight around the
Statue of Liberty
which launched a multi-country world JetPack demonstration tour.
Building on more than ten years of turbine powered JetPack engineering, the first generation of Speeders will be powered by custom modified jet engines. Said Mayman, "today, there simply is no source of thrust that comes close to the power and speed potential of turbine engines. We know that battery technology is advancing rapidly. It is likely that small electric cells with enough power to drive high efficiency turbine fans may be available in as little as five years. When that happens our patent pending flight management software, stabilization system, and flight tested airframes will be ready and easily modified for electric propulsion."
Speeder will Save Lives. It's also Cool.
The elegantly contoured Speeder features the sleek clean aesthetic of talented Swiss designer Yacouba Galle of Yacouba Design Studio and was conceived by Mayman with a core mission: Save Lives.
Therefore the company is focusing its initial designs for both
First Responder and Military
rescue applications. But there is no denying that Speeder is also awesome and the JPA team will produce a modified civilian model for consumers who crave speed and excitement. These exclusive serial numbered personal-use Speeders will be allotted according to the order in which deposits are received. At press time, the company will build just 20
personal-use Speeders
and is now accepting fully refundable pre-purchase deposits of $10,000. (
More Info
)
"The primary purpose of our new aircraft is to save lives," said Mayman. "Multiple studies have shown that for every minute saved in emergency response time, a significant decrease in victim mortality occurs. The quicker a First Responder can reach a patient in need of critical treatment, the higher the chance for a successful recovery outcome. This is true whether the medic is delivered to the patient, or the patient is transported to a hospital. The same is true for military applications. Quickly moving medics onto the battlefield and injured soldiers out of danger can be difficult and highly risky for helicopters and their crews." The compact, rotor-less Speeder can fly faster than a drone or even helicopter and safely operate in spaces too small for a helicopter. The Speeder can be converted from pilot configuration to cargo configuration in less than 10 minutes.
Speed Saves Lives ... and the small, fast, heavy-lift Speeder can be operated as an individual rescue vehicle or swarmed in a group to rapidly meet the appropriate response force needed for any unique situation. They can be deployed from and to most environments, and the advanced flight management software enables anyone to fly a Speeder with virtually no pilot training or experience.
Watch the
Speeder Video
For more information about pre-ordering a Speeder:
Contact: Speeder Pre-Sales
e-mail: myspeeder@jetpackaviation.com
Visit
www.JetPackAviation.com
About Us: JetPackAviation has been pushing the technical limits of personal VTOL flight for more than a decade. It is the first and only company to build a practical, personal, FAA approved turbine powered JetPack. The company is currently working under a Cooperative Research and Development Agreement with the US Special Operations Command (USSOCOM). JPA offers JetPack
Pilot training
, JetPack
presentation flights
, and a demonstration JetPack
Race Team.
Contact
JetPack Aviation
David Mayman
+1 (805) 262-7874
www.jetpackaviation.com

Contact