Chicago LGBTQ Art Exhibit Addresses Intimacy, Healing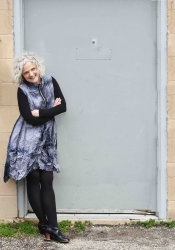 Chicago, IL, March 07, 2019 --(
PR.com
)-- Chicago artist and LGBTQ advocate, Ara-Lucia, will have a solo exhibition titled, "Your hand, Your touch." The opening reception will be from 6 p.m. to 8 p.m., April 12, at Chicago's LGBTQ community center, Center on Halsted, located at 3656 N. Halsted St., Chicago. A $5 donation is requested. The exhibit, which explores women and intimacy, will be on display through May 26.
As a bisexual woman - in a climate of political change - making art about women and intimacy comes as a natural narrative. Multiple coats of blue paint, applied with energetic gestures, convey an underlying fervor. Like a glimpse into a couple's secret world, Ara-Lucia embeds love letters between herself and a fictional woman into the paint. She writes to the woman, in a meditative state, and then responds to her letters, as the other woman. The notes, marked by dates, capture the passage of time and quietly tell the story of two hearts merging.
At one time, Ara-Lucia grappled with the idea of addressing LGBTQ themes in her work. Along with the subject of letter writing, she has since embraced it as a continuing thread.
"In recent times, every artist I know has had to search their soul and discern if they needed to change their work to respond to the current political climate," Ara-Lucia said. "Previously, I did a large scale photography project supporting marriage equality, so making political work is not unusual for me. After the 2016 presidential election, I stopped making work for about a month. During that time, I pondered deeply what my response should be. In the end, I decided since I am a bisexual woman making work about women and intimacy, I should continue with my vision."
Ara-Lucia says, over the course of her life she has consistently gotten the message, while your friends and family love you, and you may accept your full self, the world often dismisses or is hostile to LGBTQ persons. If there's a message in her artwork, Ara-Lucia says it's that healing from wounds an unforgiving society can inflict is possible, but it takes attentiveness and awareness.
"I think there's been more acceptance but I think we're so far," she said. "There's a lot of hurt in this community. I think there's a lot of ways to heal and I've found one. There's a restorative aspect of taking the time to listen to myself, when I'm writing a letter and responding to it as the other woman. I'm responding to this lifetime of feeling like I haven't been seen or heard, and it's transformative."
Contact
Ara-Lucia
732-982-7689
www.artworkarchive.com/profile/ara-lucia

Contact