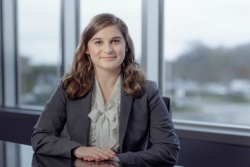 Richmond, VA, March 18, 2019 --(
PR.com
)-- Owen and Owens PLC is pleased to announce that Rachel DeGraba has joined the firm's expanding Family Law Practice group.
Attorney Mary Owens leads the firm's Family Law team and says "Rachel's ability to listen, analyze and determine the appropriate course of action for a client perfectly complements our very strong Family Law Team."
Originally from Chester, VA, DeGraba graduated from Thomas Dale High School, received her B.A. from James Madison University and her J.D. from University of Richmond, school of law.
She has spent recent years working inside the local community, interning at the Petersburg Public Defender's office and serving as a Law Clerk for the Honorable Lynn S. Brice in the Chesterfield County Circuit Court. It was while clerking for Judge Brice and witnessing her first adoption proceeding that she realized Family Law was her calling:
"I want people to understand their rights especially when it comes to domestic matters. There are so many people who don't understand their domestic rights and they get into an uncomfortable situation with a partner or child where they aren't getting the legal support they deserve. I want people to know that I recognize their worth, I want to help them and give them a voice."
DeGraba's values echo Owen and Owen's founding principal of "Every client matters."
"I want my clients to reach their goals but it's also very important that they are heard and understand that they have value."
She says she feels very fortunate to be serving the people of a community that has given so much to her and is honored to give back by "Giving a voice to someone who needs assistance."
DeGraba handles all types of Family Law matters including divorce, child custody, visitation, child support, spousal support, property settlement agreements, prenuptial agreements and adoptions.
She is a member of the Richmond Bar Association, Metro Women's Bar Association, Chesterfield Bar Association, Chesterfield Chamber of Commerce and the Virginia Trial Lawyer's Association.
The attorneys of Owen and Owens are committed to helping people through the most difficult and challenging situations of their lives with legal expertise combined with a caring attitude towards everyone they represent. The firm has many practices areas with major categories of representation including: Family Law, Personal representation and Commercial representation.
Please contact Mary Owens @ (804) 594-1911 for more information.
https://www.owenowens.com/