Bruce Nachsin Wins "Best Actor" Three Times in One Week
Actor and filmmaker Bruce Nachsin wins "Best Actor" at three film festivals in one week.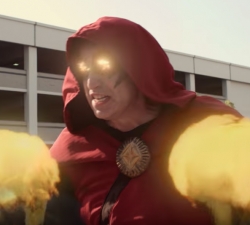 Los Angeles, CA, March 22, 2019 --(
PR.com
)-- Actor and filmmaker Bruce Nachsin is riding high off his recent wins at film festivals. In one week he won "Best Actor" at Mindfield LA, Mindfield Albuquerque, and the West Coast International Film Festival. All of these are for his recent role as supervillain Dark Specter in the new short film series by the same name.
Bruce is the creator of the series as well. The most recent installation, Dark Specter 2, has been receiving acclaim for its unique take on the superhero genre. This red menace is set on global destruction, but his well-meaning nagging mother keeps getting in his way. As the story unfolds, we learn about how this lord of darkness has to balance real life responsibilities while pursuing his passion of setting the world on fire! It won in five categories of the Independent Short Awards including Best Web Series and Best Fantasy. Labeled by most as a dramedy, Dark Specter 2 has been called "delightful," "entertaining," and having "just the right amount of twists and turns."
Dark Specter 2 is slated for public release in April. View the trailer on YouTube at: https://youtu.be/gtrGDdKPd7U. DS2 is currently being shown at film festivals across the U.S. For a full list of viewings, visit
http://www.darkspecter.com/
As if that were not enough success for Bruce, he is also receiving praise for another short film he created and starred in, Lunchtime Is Over. Imagine you're moving boxes in a stock warehouse for a living. Let's face it - you're only there for the paycheck. The only refuge you have is your lunch break. What happens when middle management cuts your lunch short? The crew becomes unhinged! What ensues in Lunchtime Is Over is a full-fledged combat comedy between the workers and the management.
Lunchtime Is Over has won in several categories as well including "Best Comedy Short at the Independent Shorts Awards and "Best Action Film" at the West Coast International Film Festival.
Watch Lunchtime Is Over on YouTube: https://youtu.be/DmlFS2lS7ho
Bruce Nachsin is definitely an actor and filmmaker to be watched! If you would like to interview Bruce, or feature any of these projects in your publication, please contact Stephen at SMTentertainment@gmail.com.
Contact
Dark Specter
Stephen M. Thornton
813-690-2810
darkspecter.com

Contact