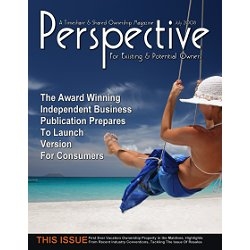 London, United Kingdom, March 27, 2008 --(
PR.com
)-- Perspective International Ltd, who produce Perspective Magazine (http://www.theperspectivemagazine.com) have revealed that a consumer version, nicknamed "Owners Perspective" will be released initially online in July 2008.
The new magazine will also be grown on a global level, covering all markets around the world and delivering the latest news, exclusive interviews, resort reviews, destination guides, new products, owner experiences, reader offers and much more…
The decision was made based on the increasing number of timeshare owners subscribing to the existing business version of the magazine. "Rather than trying to adapt Perspective Magazine to suit owners also, we have decided to launch a second publication specifically for them." Says Paul Mattimoe, President & CEO of Perspective International Ltd, "This way we can take the core content of the original magazine, but then tailor the rest to suit the consumer rather than the business side of the industry, providing both a much needed independent resource for existing and potential owners as well as a new and diverse advertising platform for businesses".
Subscriptions to the new magazine which are free of charge have already started at http://www.ownersperspective.com in readiness for the launch in July and a number of key companies and associations within the industry are supporting the initiative by asking their members to subscribe and support the publication.
A print version is planned for release by the end of the year, although the online version, as with Perspective Magazine will also always be available.
For more information visit http://www.ownersperspective.com
###