Vegan Fashion Brand Announces Collaboration to Support Animal Welfare Programs
Meet the Vegan Accessories Brand Committed to Cruelty-Free Fashion and Giving Back to Animals in Need.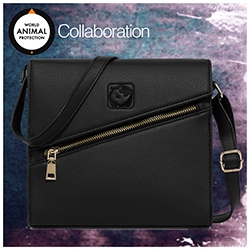 Austin, TX, April 02, 2019 --(
PR.com
)-- White Rhino Bags, an online bags & accessories brand that exclusively stocks cruelty-free, vegan designer goods has partnered with World Animal Protection US on a collaboration to help raise funds and awareness for their efforts in working towards a world free from needless animal suffering.
White Rhino Bags will be donating 15% of all online sales from their three most popular Signature Collection items to help the international animal welfare nonprofit who have been operating for more than 50 years in over 50 countries.
With 14 offices around the globe, World Animal Protection works to help animals in communities, in farming, in the wild and in disasters. They influence national governments and high-profile organizations to put animals on the global agenda, encourage businesses to change animals' lives for the better and educate the general public to help end animal suffering and exploitation.
Chief Designer and CEO of White Rhino Bags Claire Carreras is passionate about the ethical treatment animals. "Making an effort to contribute to spreading awareness for animal welfare and alternatives to animal-derived products has been a driving influence in my personal and professional life. Through the development of the online cruelty free vegan brand I have been very fortunate to connect and network with like-minded people every day, which is why this collaboration is such a dream come true."
Learn more about the vegan designer brand and the collaboration at www.whiterhinobags.com
Contact
White Rhino Bags
Claire Carreras
737-202-7110
whiterhinobags.com

Contact
Multimedia
World Animal Protection US and White Rhino Bags join forces to help raise awareness and funds to help end needless animal suffering