Singer Jocelyn Garrett, Author & Speaker Christie Ruffino & Vacations beCAUSE Join "Stopping Traffic," a Fashion-Forward Fundraising Event to Benefit Rahab's Daughters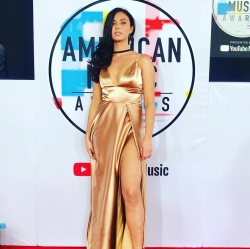 Chicago, IL, April 04, 2019 --(
PR.com
)-- Deanna Marie (DM) Label is proud to announce some of the amazing people and organizations who have joined in the fight against human trafficking and will be participating in Stopping Traffic. Co-hosted by Stan Mansion, this fundraising event will benefit local non-profit Rahab's Daughters in their fight to rescue, rehabilitate and reintegrate survivors of human trafficking, Thursday, June 27, 2019 at Stan Mansion, 2408 N. Kedzie Blvd. Chicago, IL 60647. All event proceeds will be donated to Rahab's Daughters.
Musical artist Jocelyn Garrett will be performing her original song, "United Anthem," from her debut album Gold. Garrett said it was personally important to her to participate in Stopping Traffic. "Using passion to drive purpose is what I believe impacts the world in a positive light and I believe music is universal," said Garrett. "I want to impact positive change with my passion to drive purpose, such as bringing awareness to human trafficking to help eliminate it. I think every human being has purpose and I choose to stand up for those who don't have the chance."
Christie Ruffino wears many hats as an author, business strategist, and speaker. She is also the founder and CEO of the Dynamic Professional Women's Network (DPWN), a "community for women with locations across the United States and online who are setting goals to increase business, develop personally and make a bigger impact in the world." It is through DPWN that Ruffino has made a generous donation and became a sponsor for Stopping Traffic. "Our community has been a loyal supporter of Rahab's Daughters since 2016 because we wholeheartedly stand behind their mission to ensure everyone has the option of maintaining their human dignity and live the lives God created them to live," said Ruffino. "It is easy for us to think that human slavery doesn't touch our lives, but it's everywhere. And the team at Rahab's Daughters has learned how to make the biggest impact through rescue, rehabilitation and reintegration."
Founded by Ambra Schettini and Samantha Khalil, Vacations beCAUSE is a woman-owned, highly-unique company dedicated to travel for fundraising that provides "high value and distinctively unique trips for two at a reasonable price that you can auction at your event." Packages include airfare, accommodations, and no blackout dates. "By providing outstanding service and eclectic trips, their hope is to "support philanthropists and non-profits who support a cause because we want them to continue to support that cause year after year," said Schettini. In addition, she and Khalil also feel a sense of personal responsibility. "Everyone wants to feel useful, that's kind of the human drive. We love our work and helping all non-profits but as a women-run operation, this one feels a little more emotional for us."
Tickets for Stopping Traffic are being sold through Eventbrite and include general admission and VIP seating. To be a sponsor or donate to the silent auction or VIP goodie bags, please contact Deanna Kuempel at deannamarie@deannamarielabel.com.
Contact
Deanna Marie Label, LLC
Lisa Cisernos
630-743-1081

Contact