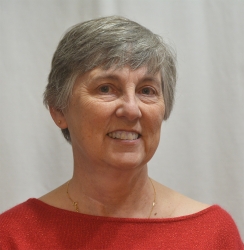 Palmyra, VA, May 03, 2019 --(
PR.com
)-- Carolyn T. Herbert of Palmyra, Virginia has been recognized as a Woman of the Month for April 2019 by P.O.W.E.R. (Professional Organization of Women of Excellence Recognized) for her outstanding achievements and high level of success in the fields of mental health and food manufacturing. Each month, they feature women to represent their professions and industries due to their expertise and success in their chosen specialty.
About Carolyn T. Herbert
Carolyn Herbert is the owner of Herbert's Wine Jelly, LLC which is a manufacturing company that produces 11 jellies, three unique peanut butter spreads, and five dip/seasoning mixes. Carolyn has partnered with wineries to create private label products using their wine for the flavors that are sold in their respective stores. She also works with other companies to create gourmet products including balsamic jellies and peanut butter spreads. The Herbert's products are available in several retail locations in Virginia as well as on Amazon.com. They were recently included in Harris Teeter Supermarkets. It has gained status as part of Virginia's Finest® Trademark Program, which enhances the economic opportunities and success of Virginia's specialty food companies, processors and agriculture producers. Only Virginia products that meet or exceed quality standards are eligible for the Virginia's Finest® program. They were part of Virginia's Best at the 2018 Virginia Food and Beverage Expo and appeared in their video of the expo.
Herbert's Wine Jelly, LLC began as an effort to support her son, who suffered head injuries in a serious car accident. She focused her attention to helping those with mental health issues have a more independent and fulfilling life. The company returns 100% of their business profits to the employees in support of mental health awareness. Their mission is to allow individuals with mental health issues to qualify for positions to provide a fulfilled life and grow to their maximum potential. They are dedicated to support those with mental health issues through their hiring practices and donations to local and national organizations. They often work with the State Police to find employees in need, as many times, mental health and legal issues often go hand in hand. The business is about helping others in need.
Carolyn earned her M.A. in Special Education and Administrative Education from George Washington University in 1985. Previously, she spent 40 years in education as a teacher of students with special needs, and later as an administrator. She is a member of the Fluvanna Chamber of Commerce. In her spare time, Carolyn enjoys retail therapy and attending wine tastings.
Carolyn Herbert states, "As a woman business owner, I wish to support those making every effort to improve themselves and provide for their families."
For further information, contact www.herbertswinejelly.com.
About P.O.W.E.R. Magazine (Professional Organization of Women of Excellence Recognized) and Powerwoe.com
P.O.W.E.R is an online community as well as a digital and exclusive print magazine featuring celebrities and everyday hardworking professional women. Our mission is to provide a powerful network of empowering women who will mentor and inspire each other to be the best they can be. Through our valuable services, our members can network, collaborate with like-minded professionals, gain recognition and obtain knowledge from those who have already achieved success.