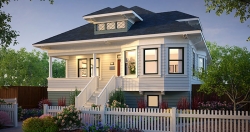 Petaluma, CA, April 17, 2019 --(
PR.com
)-- In an age of the severe Bay Area housing shortage leading to a surge of real estate developments across the region, Lafferty Communities, a privately held, family-owned homebuilder with residential communities across California and Utah, is doing their part to preserve the local communities where they are building.
Lafferty is currently restoring a historic home at 674 Sunnyslope Ave. in the hills of Petaluma as part of a new residential community in development, Aspect. Constructed in 1893, this one-story farmhouse was originally built by Albert L. Neunfeldt when he immigrated from Germany and was owned by the Neunfeldt family for over 100 years up until Lafferty purchased the home in 2007. The Neunfeldt family led the small-town life characteristic of the time, running a poultry farm on the property, as well as Fred Neunfeldt auto repair in Petaluma.
The building was found eligible for a local historic listing as it has retained the stylistic elements of houses built in the late 1800s and the original architectural features have not been altered. Lafferty will be repairing and updating the home as it has deteriorated over time, while still preserving the features that convey its historical, cultural and architectural values, such as its front porch with rounded columns, diamond-shaped window panes and bay windows.
For 25 years, Lafferty has honed their legacy as a builder of luxury custom homes. Their appreciation of the homebuilding craft can be seen in quality four-sided architecture and fine construction techniques. Lafferty has communities currently open for sale in Petaluma, Santa Rosa, Napa, San Jose, Manteca, Castro Valley, El Cerrito and South Jordan, Utah. Visit their website to learn more.