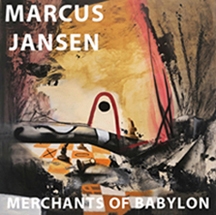 Fort Lauderdale, FL, April 19, 2019 --(
PR.com
)-- New River Fine Art presents "Merchants of Babylon" an exhibition featuring the art of Army Veteran Marcus Jansen. Jansen's socially critical paintings have been exhibited in museums internationally and now they will be available in South Florida during a selling exhibition at New River Fine Art. Originally a Graffiti writer in New York, Jansen counts influence from the Expressionists and Surrealism in developing an artistic language that speaks of a world in turmoil with isolation, threat. war surveillance, greed and a crumbling environment in competition with innocence, hope and humanity.
Jansen is no stranger to this type of chaos. An Army Veteran, he served in the heart of Desert Storm and Desert Shield, was honorably discharged and diagnosed with PTSD, which he worked through with art therapy. He has seen the ravages of war first hand and the experience left an indelible mark on the artist and his work. "Jansen has been called the cartographer of conflict," stated Lisa Burgess, owner of New River Fine Art. Jansen says of his work, "I don't see my work as political paintings, rather as critical social commentary opposed to political rhetoric."
Political or not, critics are hailing Jansen as one of the most important painters of his generation. His works have been the subject of international museum exhibitions including The Kemper Museum of Contemporary Art in Kansas City, MO with another exhibition opening at the Cornell Museum of Contemporary Art at Rollins College in Winterpark, FL which is expected to travel to other museums in the coming years.
For more information, high resolution images or to schedule an interview with the artist, please contact Lisa Burgess at New River Fine Art.