Teen Cancer America Announces New Advisory Council
Members Bring Influence, Visibility and Fundraising Expertise to TCA Mission Serving Teens and Young Adults with Cancer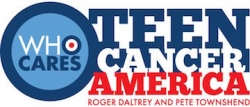 Los Angeles, CA, April 25, 2019 --(
PR.com
)--
Teen Cancer America
(TCA) today announced appointments to a newly formed Advisory Council serving the national non-profit founded by rock icons Roger Daltrey and Pete Townshend of The Who. Based in Los Angeles, TCA develops specialized facilities, treatment and age-specific services to improve outcomes and survivorship for adolescents and young adults (AYA) fighting cancer.
By appointment of the TCA Board of Directors, the Advisory Council gives advice and support to the board in pursuit of fulfilling the TCA mission. The council, comprised of well-connected leaders in the arts, industry and philanthropy, is focused primarily on fund raising, event creation, planning, programing and expansion.
The Advisory Council is chaired by TCA board member Rick French representing the charity's full 15-person board. Members of the inaugural Advisory Council include (in alphabetical order – bios below) Peter Bradley, Jr., Andy Saperstein, Jaime Siegel, Chris Stewart, Alisa Swindler and Dan Wise.
The new council members will play an active role in 2019 fundraising events held in the U.S. and in the U.K., home of TCA's sister organization, Teenage Cancer Trust. The fundraising line-up includes art-centered events at Annabel's, the London-based private membership club; the Iroquois Steeplechase in Nashville, Tenn.; polo at Will Rodgers State Park in Los Angeles; basketball "hoop-a-thons" in partnership with Duke University and the University of North Carolina; a premier golf event in South Florida and the annual private charity concert starring The Who and special guests.
"We are extremely fortunate to have the dedicated support of these amazing individuals on the Advisory Council," said Simon Davies, TCA Executive Director. "Our network of influence continues to grow and help advance our programs in medical centers across the U.S."
Teen Cancer America Advisory Council:
Peter Bradley Jr. is a retail professional, prestigious watch and fine jewelry expert, and music historian. Originally from Yorkshire, England, Bradley grew up with entrepreneurial parents who grew a successful jewelry business from a small secondhand store. With his brother, Bob, he began performing music at age 11, moved to London in his teens and signed a record deal at age 16 before eventually joining the family business at age 28. In 2012, Peter joined the board of the Buddy Holly Educational Foundation, a non-profit organization founded by his father, Peter Bradley Sr., and Buddy Holly's widow, Maria Elena Holly. The foundation promotes the legacy of Buddy Holly, inspiring and sponsoring young talent in the music industry through education, songwriting workshops, scholarships and charity initiatives.
Andy Saperstein is Managing Director and Co-Head of Morgan Stanley Wealth Management. He serves on the Morgan Stanley Operating Committee and as a Trustee of the Morgan Stanley Foundation, the firm's charitable arm. Mr. Saperstein previously served as Co-COO of the Institutional Securities Group, working across the ISG businesses and coordinating initiatives with Wealth Management. He joined Morgan Stanley in 2006 as COO of National Sales, and became Head of Wealth Management, including U.S. Private Wealth Management in addition to serving as Head of Investment Products and Services. Mr. Saperstein previously held numerous senior leadership roles at Merrill Lynch and is a former partner in the Financial Institutions Group of McKinsey & Co.
Jaime Siegel is CEO of technology start-up FlipTix, a mobile ticketing app that enables event attendees to flip their ticket to another buyer. He has spent most of his 25-year career as a patent litigator, serving 16 of those years as Vice President of Intellectual Property for Sony where he led global team that generated billions of dollars in annual revenue. Mr. Siegel currently serves as a National Trustee of the Rock & Roll Hall of Fame + Museum in Cleveland and resides in Newport Coast, California.
Chris Stewart is the former CEO of Gelber Group, a trading firm at the Chicago Board of Trade (CBOT). He served on the board of the CBOT and the Chicago Mercantile Exchange from 2006-2014. Stewart is also a musician, producer, filmmaker and music preservationist. In addition to playing percussion in the Dave Mason Band, he produced albums for Mason, Ronnie Baker Brooks, Blue Sky Riders and Freddy Jones. His credits include work for Boz Scaggs and the famed Royal Studios in Memphis, plus documentaries on Royal Studios founder Willie Mitchell and a chronicle of Chicago blues music. Stewart has co-produced with the Chicago Coalition for the Homeless several charity concerts featuring Patty Smith, Lucinda Williams, Big Head Todd and the Monsters, and Buddy Guy. He has partnered with acclaimed drummer Steve Jordan on numerous projects, and currently serves on the boards of the Rock and Roll Hall of Fame + Museum and the Country Music Hall of Fame. In Nashville, he is a partner in Black Bird Studios (and Blackbird Academy) and RCA Studio B.
Alisa Swidler, a native of New York City, spent 17 years living in London where she served on numerous boards, including the Capital Campaign Board of the English National Ballet and the Development Boards of both Royal Albert Hall and The Old Vic Theatre. She continues to serve as a Trustee on Charlize Theron's Africa Outreach Project, holds a seat on the Advisory Board of Richard Branson's Foundation, Virgin Unite, is a Senior Advisor to Atalanta (a global initiative focused on electing women to higher political office), and is an active ambassador for The Clinton Foundation, focused on their rebuilding efforts in Puerto Rico. Ms. Swidler is a contributing editor for Town & Country magazine where she pens "The A List," and was recently profiled in Telegraph magazine as "The Most Connected Woman in London." Currently, she is back in New York with her five children.
Dan Wise is an entrepreneur who has created several companies over the last 25 years focused consumer product closeouts and technology, including the world's first b2b marketplace for brand name excess inventory, LiquidXS.com, founded in 1998. In 2008, Dan relocated to Montreal to start CroJack Capital, which buys and sells overstock product inventories and makes small investments in early stage companies. One of those companies, RealEats.com, providing direct home delivery of healthy, chef-cooked meals, has become his full-time passion and focus for inciting positive change.
In addition to French (CEO & Chairman, French/West/Vaughan), the Teen Cancer America Board of Directors is comprised of TCA founder and board chairman Rebecca Rothstein (Managing Director, Merrill Lynch - Beverly Hills), Howard Jaffe (Philadelphia-based attorney), Bill Curbishley (legendary manager of The Who, Led Zeppelin), Jordan Kaplan (President & CEO, Douglas Emmett, Inc.), Jeff Ward (Chief Strategy Officer, First Citizens Bank), Robert Rosenburg (Managing Director, Trinifold Management and co-manager, The Who), Glenn G. Taylor, M.D. (co-founder, Neurosurgery, Orthopedics and Spine Specialists of Waterbury, Conn.), Zach Cohen (Director of Yield Management, New England Motor Freight), Deborah Montaperto (Managing Director, Morgan Stanley Private Wealth Management), Maria Taylor (Klemm Real Estate), Char Fowler (Char and Chuck Fowler Family Foundation), Darren Strowger (co-founder, Excell Group), Gerald Grant, M.D. (Chief of Pediatric Neurosurgery, Packard Children's Hospital at Stanford University) and Becky Mancuso-Winding (Senior Director of Development, UCLA Health).
About Teen Cancer America
Every hour another 13 to 39-year-old is diagnosed with cancer in America. Teen Cancer America transforms the lives for this under-served patient population by working with our country's leading cancer treatment and research centers. They create specialized clinical care programs, offer therapeutic experiences and provide access to individualized support and resources. This completely unique organization works with the leading healthcare institutions to build state-of-the-art Adolescent and Young Adult "Social Zones" for both in-patient and out-patient treatment settings. The work of Teen Cancer America has impacted over 5,000 young people and their families nationwide during the last six years. For more information, contact Michelle Aland michelle@teencanceramerica.org or visit www.teencanceramerica.org.
Contact
Teen Cancer America
Brewer Owen
919-277-1181
https://teencanceramerica.org/

Contact