Yorktel Hires Esteemed Telehealth Pioneer Dr. Sudhir R. Ahuja as Senior Vice President of Product Management, Healthcare
Visionary Entrepreneur, Scientist, and Forerunner in the Field of Video-Based Technology for Healthcare Will Spearhead the Evolution of the Univago HE Telehealth Platform.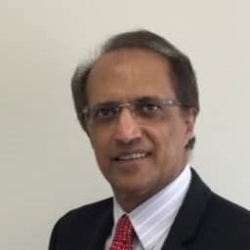 Eatontown, NJ, April 25, 2019 --(
PR.com
)-- Yorktel, a leading global provider of cloud and managed services, is proud to announce it has appointed Dr. Sudhir "Sid" R. Ahuja as Senior Vice President of Product Management, Healthcare, to oversee the ongoing development of Yorktel's healthcare solutions. This includes Yorktel's flagship telehealth platform, Univago HE.
The appointment of Dr. Ahuja to Yorktel's healthcare team is part of the company's greater initiative to evolve the Univago HE Telehealth Platform and its related products and services, delivering a more formidable range of telehealth solutions to the marketplace under its brand.
Over the past decade, Dr. Ahuja has immersed himself in telemedicine, IoT, and remote patient care technologies, including launching two telehealth-related start-ups and spearheading video-based technology projects. He recently served as Entrepreneur-In-Residence and Visiting Research Professor at Stevens Institute of Technology in New Jersey, where he oversaw a range of projects relative to video services and technology. Dr. Ahuja began his career at Bell Labs, devoting 37 years to their research and development department. He later successfully launched Vayu Technologies, which provided video-based telemedicine focused on senior citizen care. Dr. Ahuja holds 23 patents in a variety of IT, communications, and healthcare categories.
"Sid is expertly positioned to help Yorktel bring the Univago HE platform to the next level of success. Together we can facilitate even more compelling, effective telehealth experiences for healthcare companies and their patients, delivering innovative remote monitoring solutions to these specialized environments," said Yorktel CEO Ron Gaboury. "Sid's life work has been pioneering video-based advancements that support customer care. We're thrilled that such an esteemed scientist and savvy business executive has joined our ranks, and we look forward to collaborating on more thoughtfully imagined, proficiently deployed, and diligently managed solutions under the Univago HE umbrella."
A true pioneer in multiprocessor computer systems and multimedia communication systems, Dr. Ahuja designed and led the development of the first multicomputer system ("S/Net"), which led to the creation of the AT&T 3B4000 computer product. He also contributed his skills to ATT's first multimedia conferencing system, called Rapport, which eventually became the AT&T WorldWorx video conferencing service. He was a Bell Labs Fellow, and has led research initiatives in multimedia communications, IMS systems, voice and data convergence, speech and video systems, and unified communications.
The Univago HE Telehealth Platform is an intuitive, comprehensive remote clinical and monitoring service. It helps healthcare providers streamline and simplify collaboration and improve patient outcomes, empowering clinicians to focus on the delivery of quality care without having to worry about the complexity or reliability of telemedicine technology. The platform includes the Telehealth ICU solution for specialized, intensive care environments; and the Acute patient solution for medical-surgical units, step-down units, and emergency departments.
"Yorktel has developed a unique and admirable business model in how they provision solutions in the healthcare market," said Dr. Ahuja. "Vision in the marketplace can only succeed when it's backed by a talented team whose goals are focused on driving business through innovation. I'm excited to be part of the outstanding ingenuity and momentum that Yorktel has built over the past four years and look forward to contributing to the evolution of the Univago HE Platform."
For more information about Yorktel's Univago HE Platform, please visit
https://www.yorktel.com/our-healthcare-services/
.
About Yorktel
About Yorktel - Yorktel is a leading global, cloud platform and managed services provider for health care, large enterprise, and federal government customers. Yorktel's Univago HE enables customers, on one universal platform, to successfully integrate secure, reliable 2-way audio video into all patient/clinician interactions, with unique workflows designed to fit any patient engagement, safety or assessment need. For more information, visit Yorktel online at http://www.yorktel.com. Follow Yorktel on Twitter: @yorktelcorp.
Contact
Yorktel
Kelly Harman
732-413-6088
www.yorktel.com

Contact