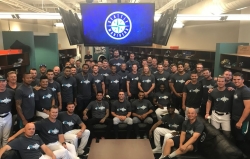 Seattle, WA, May 03, 2019 --(
PR.com
)-- June 23rd 2019, Seattle Mariners, fans, and supporters for the fight against Alzheimer's will unite for an elite8 style corn hole tournament featuring sixteen Mariners, competing to raise the most money 4MOM. Proceeds will then benefit the Alzheimer's Association.
The event is organized by the 4MOM Charity, founded by Braden Bishop of the Seattle Mariners.
According to the Alzheimer's Association, over five million Americans are currently battling Alzheimer's or dementia. When Braden's mother Suzy Bishop was diagnosed at age 52 with early on-set, Braden and his brother Hunter were devastated. Feeling helpless, Braden decided to create the 4MOM Charity as a vehicle to raise awareness and funds to help fight for the first survivor of Alzheimer's.
In just four years, 4MOM has grown from a small force to a mighty one. The most recent fundraiser during Spring Training 2019 in Arizona sold out with over 300 people in attendance and raised over $20,000 for the cause.
Their inaugural Seattle fundraiser, TossItUp4ALZ will be an intimate and rare opportunity for fans to mix and mingle with their favorite baseball players, bet on which team they think will win the tournament, and support a worthy cause at the beautiful Hotel Monaco in downtown Seattle.
For more information on Braden and 4MOM, visit www.4MOM.org.
Contact: Jessica Leila Adnani
202-815-1033
Jessica@personalizedsolu.com