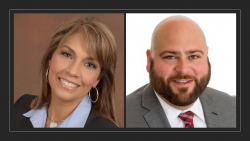 New York, NY, May 07, 2019 --(
PR.com
)-- Pulver and Berger join New York City's top-rated moving company with a wealth of vast experience across industries including finance, automotive, furniture and information services. The appointment of these new Roadway Moving senior leadership members comes as the multi-million dollar company continues to grow exponentially year-over-year. Today, the moving company houses 67 trucks, 26 tractor trailers, and over 280 talented employees to assist with over 8,000 customer moves a year. Roadway Moving's 2018 revenues were north of $22 million, representing an impressive 86% growth since 2015.
Roadway Moving's new VP of Sales and Business Development, Jason Pulver, joins the team with extensive experience leading prolific sales teams at multiple Fortune 500 companies to success. Most recently, Pulver served as Regional Manager at Capital Contractors overseeing all of the New York Region and was previously the Sales Manager at Cort Furniture, a Berkshire Hathaway company, where he was a two-time winner of the President's Excellence Award as one of the top three performers in the company. At Roadway, Pulver will oversee Inside and Outside Sales, Leads Management and Business Development. "We are happy to have Jason on our team," said Ross Sapir, President, Founder and CEO of Roadway Moving. "We know he will carry over his experience to bring new opportunities and leads in various industries we are pursuing to Roadway."
Daisy Ortiz Berger also joins Roadway Moving, bringing with her a wealth of strategic marketing, agency management, digital, social media and experiential marketing experience to the leadership team as she steps into the role of VP of Marketing. Ortiz Berger previously held roles as SVP, Director of Marketing at Citibank North America, SVP-Strategic Marketing Executive at Bank of America and Director of Marketing at Ford Motor Company. In her new role, Ortiz Berger will be responsible for the company's overall marketing strategy and Influencer Program, overseeing all brands, agency/vendor management, commercial events, student and seasonal on-demand storage, commercial and relocation campaigns and incentive programs. Sapir commented, "We are excited to have Daisy on our team and know that she will bring lots of energy, creative ideas and corporate experience to help take Roadway and its brands to higher levels of visibility and stay top-of-mind with consumers."
For information on Roadway Moving, visit the brand website at www.roadwaymoving.com and follow @RoadwayMoving on Instagram.
About Roadway Moving
Roadway Moving is New York's premier moving company providing professional and stress free moving services to the Tri-State area. With the largest fleet on the East Coast (67 state-of-the-art trucks and 26 tractor trailers), Roadway Moving offers a full range of local, long distance and international moving services and storage options while providing a seamless moving experience to clients. From quote to cleanup, Roadway Moving's highly trained team is committed to quality, transparency and efficiency – staples of a company known for the highest caliber of customer service in the industry. Founded by CEO, Ross Sapir in 2008, Roadway Moving is NYC's top moving company due to its dedication to providing impeccable protection and satisfaction to their customers. Roadway Moving has received Angie's List Super Service Award 5 years in a row and has been featured in Inc.'s 5,000 fastest-growing companies in America in 2018. Whether moving next door or across the world, Roadway Moving provides a level of experience and knowledge unmatched by many other local moving companies. With over 280 employees in the United States, Roadway Moving is available to assist clients with last minute engagements.