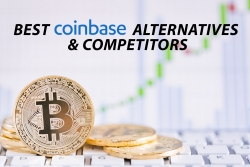 Peoria, AZ, May 10, 2019 --(
PR.com
)-- ICO SPOTTERS has published their 2019 guide for the
top Coinbase alternatives
and cryptocurrency exchanges. While no "best cryptocurrency exchange" exists, alternatives to Coinbase do, and this comprehensive article details the major players outside the Coinbase platform.
As people think of options to buy and sell cryptocurrencies, they naturally think of Coinbase, the market leader, with its platform of over 11 million users across 38 million currency markets. It has a reputation for being trustworthy, but not all customers are satisfied. Fortunately, many alternatives exist to Coinbase, especially those looking for a wider selection of digital currencies, lower fees, or other advantages.
Determining what is important to you will help you pick the best exchange for your current needs. ICO SPOTTERS' list of some of the best Coinbase alternative exchange sites, which all scored exceedingly well in ICO SPOTTERS' review, include:
1.
Binance
2. Kraken
3.
Changelly
4. Gemini
5. Coinmama
"We have spent a lot of time researching the best Coinbase alternatives and Coinbase's competitors, for our readers and we are excited to share this list," commented Adam Carlson, Director of Marketing for ICO Spotter. "So many other options exist and it is important that users find the platform that is right for every trader."
For more information on each exchange or to view a comprehensive list of alternatives that might suit your unique needs as well as reviews of the
best hardware wallets
, exchanges, ICOs and more, please visit ICOSpotters.com.
About ICO SPOTTERS
Listing an ICO on ICO Spotters is simple, easy and fast. Each ICO is listed by category and by blockchain to make it as easy as possible for interested investors to find a project that interests them. Each listing on ICO Spotters website includes information about the ICO, videos, and links to important information investors may be interested in such as the ICOs whitepaper. Listing an ICO on ICO Spotter is a smart move that gives your company a way to reach hundreds to thousands of investors and raise the money you need to create a successful blockchain project. It makes it easier for your investors to find all of the information in one place.
To learn more about ICO Spotters and get your ICO listed, please visit,
https://icospotters.com
today.