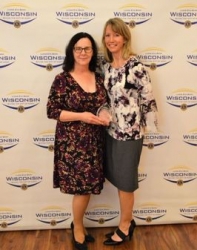 Madison, WI, May 14, 2019 --(
PR.com
)-- Lions Eye Bank of Wisconsin (LEBW) hosted its annual Crystal Vision Awards ceremony on Thursday, May 2, 2019 at Noah's Event Venue in Madison, Wisconsin. Since 2007, LEBW has honored advocates of donation who have shown commitment and dedication to raising awareness and educating communities on the importance of organ, eye and tissue donation.
This year, LEBW honored 18 recipients from various categories – surgeons, hospitals, medical examiners, funeral homes and community partners. The 2019 Crystal Vision Award recipients continue to demonstrate that commitment and passion by sharing the mission of saving and healing lives through the gift of transplantation and the support of their community. The following Crystal Vision Award recipients are:
Surgical Partner(s)
· Dr. Neal Barney
· Dr. Christopher Born
Hospital Partner(s)
· Aspirus Wausau Hospital
· Gundersen Lutheran Medical Center – La Crosse
· Mayo Clinic Health System – Franciscan Healthcare – La Crosse
· Crossing Rivers Health – Prairie du Chien
· Reedsburg Area Medical Center
· Froedtert Hospital
· Community Memorial Hospital – Menomonee Falls
· St. Joseph's Hospital – West Bend
· St. Agnes Hospital – Fond du Lac
· Waupun Memorial Hospital
· Ripon Medical Center
· SSM Health St. Mary's – Madison
Medical Examiner Partner
· Waukesha County Medical Examiner's Office
Funeral Home Partner
· Skinner Funeral Home – Cumberland, WI
Community Partner
· Wisconsin Council of the Blind and Visually Impaired
LEBW also presented the second annual Lions Legacy of Sight Award to Dawn Lyons-Wood. Dawn is donor family member (mom), LEBW Transporter and volunteer, Beaver Dam Lions Club member and UW Organ & Tissue Donation volunteer. The Lions Legacy of Sight Award is presented annually to an individual, outside the professional donation and transplantation community, who has made a significant impact in educating the public about donation and promoting donor registration on a state or national level.
In 2018, LEBW served more than 1,000 donors and families, and placed more than 1,500 corneas with corneal surgeons in Wisconsin, throughout the United States and around the globe. LEBW's purpose is to support donors and their families during their time of loss and facilitate the recovery of corneas for transplant, to restore sight to the visually impaired.
Currently, there are over 2,000 people that are on the waiting list for an organ transplant in Wisconsin and almost 115,000 people domestically. The impact of 1-donor can save up to 8-lives through organ donation, restore sight for 2-people and save and heal more than 75-lives through tissue donation. For more information about organ, eye and tissue donation or to register as a donor, visit www.lebw.org.
LEBW is a nonprofit 501(c)(3) organization and team of professional and volunteers, dedicated to the mission of restoring the gift of sight through recovery and transplantation of corneas, research to advance the knowledge and treatment of eye diseases, and education to increase donations. Our ultimate goal is to improve people's quality of life thought the gift of sight.