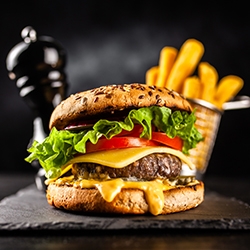 New York, NY, May 25, 2019 --(
PR.com
)-- May 28 is National Hamburger Day. Hamburgers and cheeseburgers have been a staple of the American diet for decades and nothing says summertime like a big, juicy hamburger.
Although hamburgers originated in Hamburg, Germany, eating a burger on a bun is actually an American tradition. And we eat more than 50 billion burgers a year – the equivalent of three burgers a week.
Following is a statement from Adam Rogers, author of the new book, "The No Mammal Manifesto: Diet for a new and more sustainable world":
"The problem is these burgers, if made of beef, are killing the planet, bankrupting our economic systems, and making everyone sick. The beef industry wants you to believe their product is good for your health. Don't be fooled. Read the book and get the facts, such as:
· People who eat four ounces of mammal meat a day (such as beef or pork) are more likely to die of cancer or heart disease than those who eat fish or turkey.
· The proportion of men with low sperm concentration is three times higher for the sons of beef eaters than it is for men whose mothers did not eat beef.
· Men who eat more than two red meat servings daily have a 28% higher risk of having a stroke.
· People who eat a single serving of red meat each day have a 19% higher risk of getting Type 2 diabetes.
· The World Health Organization has labeled processed mammal meat as a carcinogen – as bad for you as cigarettes. For example, eating just one pork or beef hotdog a day raises the chances of developing colorectal cancer by 21%.
To celebrate National Hamburger Day, host a backyard barbeque with friends and grill up some burgers – just make sure they are not made of beef. Turkey or tuna burgers are tasty and tempting alternatives. Or better, go with the Beyond Burger. Your health, the economy and the planet will thank you."
The No Mammal Manifesto: diet for a new and more sustainable world
by Adam Rogers, Phoenix Press
ISBN: 978-87-971254-0-3
Cost: $9.95
Launch date: May 28, 2019
www.amazon.com/No-Mammal-Manifesto-sustainable-world/dp/8797125407/ref=sr_1_1
Author available for interviews at:
American Booksellers Association
BookExpo and BookCon 2019
Javits Center, NYC, 29 May-2 June