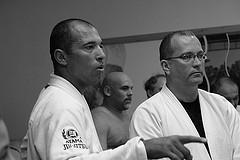 West Hartford, CT, March 30, 2008 --(
PR.com
)-- MA MMA & CT MMA Professor, Royce Gracie, will be teaching a historic seminar in San Juan Puerto Rico. Gracie Jiu Jitsu Black Belt Jim Hughes and long time student Lou Rodriguez will assist Royce in this first Royce Gracie visit to Puerto Rico. The seminar will be held at the University of Puerto Rico in San Juan in the Athletic Center. Gracie Jiu Jitsu students, skilled in Brazilian Jiu Jitsu, Grappling, and MMA, will be traveling to PR from CT, MA, RI, and NY to take part in this event and to help participants in the practice. "We are grateful to all our friends throughout Puerto Rico who have expressed an interest in training with the Royce Gracie Brazilain Jiu Jitsu Organization" says Lou Rodriguez. "We are also thankful to our friend, Professor, and Judo Master Hiromi Tomita of the University of Puerto Rico for his support."
Of special note is Royce Gracie Jiu Jitsu CT student Ryan Greco, who will be traveling with Jim, Royce, and Lou as our special guest due to his significant contributions in the development of our Brazilian Jiu Jitsu Network in New England and beyond. "Ryan Greco really represents the spirit of generosity and hard work that is at the core of our community and I am very appreciative that Ryan brings his whole heart to the practice" says Jim Hughes.
Gracie Jiu Jitsu evolved out of Kano's Judo/Jujutsu when Master Maeda, one of Kano's early students, shared his art with the Gracie family. Master Helio Gracie, Royce's father, worked hard refining his understanding through practice and competition and has given the world his own unique form of complete self defense, now known as Gracie Jiu Jitsu. "Since the very beginning, leaders in Judo have been kind to the Gracie family and we are grateful to Professor Hiromi Tomita for his friendship" says Jim Hughes.
The focus of the seminar will be on Gracie Jiu Jitsu fundamentals and self defense. In addition, Royce will be available for questions regarding mixed martial arts, MMA, and for photos and autograph signing as well.
Jim Hughes and Royce Gracie have an extensive network of schools throughout New England. Royce Gracie Brazilian Jiu Jitsu is popular worldwide and Mr. Gracie travels extensively sharing his family's unique martial art.
for more information please go to
www.gracie-jiu-jitsu.com
or
www.RoyceGracieJiuJitsu.com
gracie-jiu-jitsu dot com or RoyceGracieJiuJitsu dot com
###