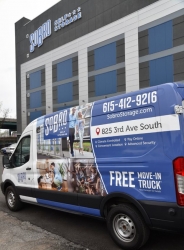 Nashville, TN, June 01, 2019 --(
PR.com
)-- SoBro Self Storage is pleased to announce that it will hold a ribbon cutting ceremony for its newly constructed self-storage location. This event will take place onsite the facility located at 825 3rd Ave South Nashville, TN. 37210 on Tuesday, June 11th, 2019 at 2:00 pm - 4:00 pm.
"We are excited to be hosting this event for the community. This will officially mark our store opening and will give the community an opportunity to see the new location and meet the property's managers," said Regional Manager Scott Hager.
This 19,088 square foot facility offers 213 climate-controlled units in various sizes for their customers. Some additional features and benefits found at SoBro Self Storage include: online bill pay, national call center assistance, month-to-month leasing, courteous and professional staff, and personalized code access.
This community event is opened to the public and will give attendees the opportunity to tour the facility, meet the managers, and talk candidly with the owners. SoBro Self Storage is providing light food options and drinks of water and soda. Chamber of Commerce members are scheduled to attend.
Please join Sobro Self Storage for this celebration on June 11th at 2:00 pm – 4:00 pm.
Sobro Self Storage is managed by Absolute Storage Management. This property is one of the eight Nashville locations managed by Absolute Storage Management.
Absolute Storage Management (ASM) is the largest private, third-party self-storage management company in the United States. Founded in 2002, ASM holds its headquarters in Memphis, TN with regional offices in Atlanta, GA; Charlotte, NC; Nashville, TN; and Jackson, MS. The company operates over 85 properties in Alabama, Arkansas, Florida, Georgia, Illinois, Kentucky, Kansas, Louisiana, Mississippi, North Carolina, Ohio, South Carolina, and Tennessee.
For further information and news about Absolute Storage Management, please go to the ASM website at www.absolutemgmt.com. Contact Grace Anderson at grace.anderson@absolutemgmt.com or call her at 901-737-7336 ext. 705.