Oddity Prodigy Productions Comic The Adventures of Superchum Explores the Power of Friendship in New Series
Learn about the Power of Friendship from Oddity Prodigy Productions' Online Comic Superchum. The flagship character of Delaware's leading art collective is Superchum the World's Friendliest Superhero. And his new online series delves into the heart of the Power of Friendship.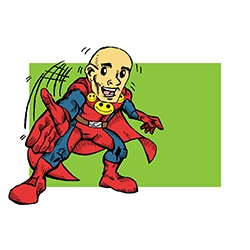 Wilmington, DE, June 02, 2019 --(
PR.com
)-- So
What is the Power of Friendship
?
It often starts with something like, "Let's be friends!"
And then maybe a high five or a handshake.
Then begins the journey into friendship, or as the Mighty Befrienders like to say, "The first step onto the Paths of Chumliness!"
Friendship is at the core of Oddity Prodigy Productions' flagship property: The
Adventures of Superchum comic strip
.
Superchum has all of the powers of other heroes in today's popular comic books and movies. Fans of characters like Superman or the Sentry or Hyperion will recognize much of what Superchum can do. He has those archetypal abilities flowing through him:
- he can fly
- is invulnerable
- is super strong
But none of that is really the focus of OPP's Superchum comics. What makes Superchum and his story unique among all other comics is his greatest power: Friendship. And that's a power that all of us on this planet can wield.
Friendship is one of the oldest parts of our culture and our humanity. It is a social relationship that has no physical ties but binds people together into a strong emotional bond.
Sometimes friendships don't start with such an obvious statement or gesture. Sometimes there's no mention of the word friendship, just the subtle beginning of a relationship socially between two people that grows and grows. Friendship knows no boundaries and exists across gender, race, and creed. With the variable so wide open, however, there are two things present in all friendships - two things that friendships across the globe have in common:
- there is a sense of security
- and there is a sense of belonging
Those two characteristics are what friendship gives each part of the relationship. That is the Power of Friendship.
Pure, Simple, Friendship is the Name of Superchum's Game
Superchum comics focus on the Power of Friendship in the story, and the character's actions. From panel to panel you'll see the character embody true friendship. When a character feels down, a Superchum or any other member of his team the Mighty Befrienders will be there to provide comfort. The warm presence of that friendship can break through the darkness that the villains in this comic create, and the Mighty Befrienders constantly give the people around them that sense of security or the feeling of belonging. These friendship-based powers are how people triumph in Oddity Prodigy's online comic.
Friendship, especially when practiced by Befrienders on the Paths of Chumliness, is freely given. It never demands anything in return. This infuses the Power of Friendship with positivity and staves off any corruption or toxicity. True Friendship thrives because each side practices giving it freely. So there's never any need to make demands.
Happiness doubles and sorrow is cut in half in the company of a friend like Superchum. It is this Power of Friendship that the Mighty Befrienders bring to the world, through the Paths of Chumliness.
Contact
Oddity Prodigy Productions
Steve Myers
302-562-1724
https://www.oddityprodigy.com/

Contact