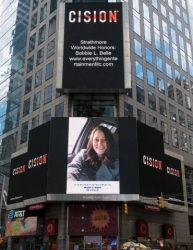 King of Prussia, PA, July 12, 2019 --(
PR.com
)-- Bobbie L. Belle of King of Prussia, Pennsylvania has been honored with a Lifetime Achievement Award and as a Top Executive for 2019 by Strathmore's Who's Who Worldwide for her outstanding contributions and achievements in the field of entertainment.
About Bobbie L. Belle
Bobbie Belle has over 6 years experience in the entertainment field. She is the owner and CEO of Everything Entertainment LLC which is a recording studio and independent record label providing recording services and finding and promoting talent nationally.
Nowadays, everything in our culture is visual. A fantastic EP can only get an artist so far; they need an image to go with their music. Marketing an image is so important. Bobbie supports artists and their vision, knowing that their passion and love for what they do is what will connect them with their audience. As an independent record label, Everything Entertainment LLC loves meeting new artists and raising them to new heights in their music career.
Ms. Belle is responsible for promoting new artists, records and distributing recordings. She also handles marketing and advertising for clients and the company. She was recently featured on the famous Reuters Billboard in Times Square in New York City.
Bobbie states, "Dreams can come true, just work hard and never quit! You can overcome anything. I spent years in prison, overcame an addiction, got off parole and never looked back. I started in 2010 from nothing, coming home from prison and learning everything I could about the music business. I still learn new things to date. I have no choice but to make this work! I have too many people to prove wrong. Everything Entertainment LLC was created to help artists of all genres and walks of life to make their dreams come true. We are a family and help one another grow and evolve in our careers as well as our everyday lives."
Born on June 5, 1972 in Muncy, Pennsylvania, Bobbie enjoys spending her leisure time reading and shopping.
For further information, contact
https://everythingentertainmentllc.com/
.
About Strathmore's Who's Who Worldwide
Strathmore's Who's Who Worldwide is an international advertising, networking and publishing company based in Farmingdale, New York. They are proud to be able to satisfy their clients and continue to have repeat clientele due to their longevity and pride in their products and services. The Owners strive to connect business professionals to enhance their contact base and networking capabilities so they can get the acknowledgment and publicity within their industries and beyond. The Strathmore family has been providing these valuable services for over two decades. They target executives and professionals in all industries to be featured in their publication and on-line directory. Industries include business, law, education, healthcare and medicine, fine arts, IT, government, science, real estate, entertainment and many more accomplished fields. Professional profiles are listed in an annual hardcover journal and in a detailed, searchable database on the website www.strww.com.