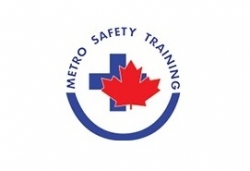 Coquitlam, Canada, June 14, 2019 --(
PR.com
)-- It only takes six minutes for a human to expire due to lack of oxygen. First-aid training allows a person to provide assistance to an ill person during an emergency situation and potentially save their life. Metro Safety understands this, and therefore, offers professional first-aid training and safety courses in Canada.
Located a few steps away from Braid Street Sky Train in Coquitlam, BC, Metro Safety has been providing exceptional first aid training courses since 2008. Over the past decade, they have become the industry leaders in providing the critical knowledge and skills required in the field of first aid.
They have delivered countless trainings and first aid classes to workers, students and lay people across British Columbia. They're now focusing more on occupational safety courses to improve workplace safety in light of the increase in workplace fatalities during recent years.
Speaking about the company mission, a spokesperson for Metro Safety said, "Passion and heart, these are the two things that derive us at Metro Safety. We care about the workforce of this country. We care about the common people. Hundreds of people get injured in Canada on a daily basis. According to statistics, 36% of the home in Canada have reported not having a single member of the family with first aid training. This is a critical problem. It's vital that everyone knows basic first aid skills. Countless lives are lost each year which could have been saved with just a little bit of first aid skill. That's what we do, we save lives!"
According to the Canadian Centre for Occupational Health and Safety, 951 workplace fatalities were recorded in the country in 2017 alone. An additional 251,508 claims were also recorded regarding workplace related diseases and injuries. This is a serious problem and it has only increased in numbers from the previous years.
"At Metro Safety, we're committed to arming the local workforce with the necessary skills that can prevent common workplace accidents. Our comprehensive first aid courses have shown significant results. Countless people who took our courses have reported successful CPR administration and a reported decrease in workplace safety concerns!"
Metro Safety has been authorized by the Canadian Red Cross and offers a number of emergency first aid courses which have been developed and recognized by the Canadian Red Cross.
About Metro Safety
Metro Safety training was established in 2008. Since then it has been the leading provider of certified First-Aid trainings. Located in Coquitlam BC, they have been providing the much needed education in the field of workplace safety with the help of courses such as fall protection training, Forklift Training, emergency first aid training, and various other workplace health and safety programs. Their service areas include Coquitlam, Burnaby, and Vancouver in British Columbia.
Address: 914, Sherwood Avenue, Coquitlam, BC V3K 1A6, Canada
Email: info@metrosafety.ca
Website: http://metrosafety.ca
Telephone: 604-521-4227
604-521-4123
Facebook: https://www.facebook.com/metrosafetytraining/
Twitter: https://twitter.com/metrosafetyca
Instagram: https://www.instagram.com/metrosafetytraining/