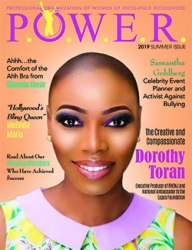 Manhasset, NY, July 11, 2019 --(
PR.com
)-- Tonia DeCosimo, founder and editor-in-chief of P.O.W.E.R Magazine is proud to highlight multifaceted success women in the summer 2019 issue of P.O.W.E.R. Magazine (Professional Organization of Women of Excellence Recognized) and powerwoe.com. Whether it is charitable work, mentoring other women or looking to expand their own careers, these women continue to grow; never content with the status quo.
About The Multifaceted Successful Women of P.O.W.E.R.
Dorothy Toran, appearing on the cover of the summer issue, is the epitome of such a woman. She is the executive in charge of production and executive producer of Sirens Media which produces "The Real Housewives of New Jersey." Dorothy is the national ambassador for The Lupus Foundation of America. She leads The Celfie Cosmetics Color Me Happy Campaign, an aggressive awareness and stem cell initiative for lupus.
Kim Perell is an entrepreneur, author, angel investor and a tech CEO. Actress, TV personality and comedienne turned designer Rhonda Shear created her award-winning supportive shapewear line, Rhonda Shear Intimates which first aired with HSN in 2003. Former E!/Style Network star, Samantha Goldberg is known as one of the top celebrity event and wedding planners in New York, Chicago and Los Angeles. Vera Moore, former actress turned entrepreneur, is president and CEO of the family owned business, Vera Moore Cosmetics. Carolyn Herbert is the owner of Herbert's Wine Jelly, LLC which she began as an effort to support her son who suffered head injuries in a serious car accident. Barbara Steingas is a life coach, author and healing specialist with Overlook Medical Center of Atlantic Health Systems.
P.O.W.E.R. Magazine's 2019 summer issue includes numerous articles about their amazing members who are outstanding doers and multitaskers. They keep moving forward, pursuing their goals and dreams. Their stories are both inspirational and motivational. The magazine also includes features about summer cocktails, recipes, and exciting new trends for the season.
For further information, contact
www.powerwoe.com
.
About P.O.W.E.R. Magazine (Professional Organization of Women of Excellence Recognized) and Powerwoe.com
P.O.W.E.R is an online community as well as a digital and exclusive print magazine featuring celebrities and everyday hardworking professional women. Our mission is to provide a powerful network of empowering women who will mentor and inspire each other to be the best they can be. Through our valuable services, our members can network, collaborate with like-minded professionals, gain recognition and obtain knowledge from those who have already achieved success.