Glitzkoin Urges Crypto Community to Help the Needy; Navneet Geonka Takes the Lead
Navneet Goenka, diamond veteran and promoter of the Glitzkoin diamond blockchain project, urges the crypto community to help the needy and underprivileged.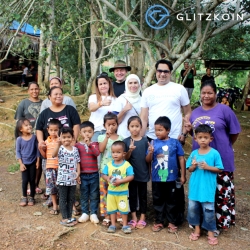 Kuala Lumpur, Malaysia, June 24, 2019 --(
PR.com
)-- Speaking just before leaving for the Iftaar party organized in rural Malaysia, diamond veteran and Glitzkoin promoter, Navneet Goenka, urged the crypto community to help the less fortunate in society.
The event was organized to mark the "breaking of fast" after sunset during the Ramadhan month. The Glitzkoin CEO said, "I surely do not deserve to be called a philanthropist, but, I feel that it is my duty to help the less fortunate in society. Crypto trade has increased the wealth of many, it is time that we shared a tiny part of that with the needy."
Lila Ruzaini, Business Development Manager at Glitzkoin, is well known for her social work in Malaysia. The "Diabetes Awareness Event," organized by her in 2018 (sponsored by Glitzkoin), has been widely appreciated in medical and government circles across Malaysia.
The Glitzkoin manager makes a sincere request to businesses, "It is important to make an effort however small or big, to help the less fortunate. You could help a single individual or a whole group… do it with an open heart and rest assured that you will make a difference."
Previous Glitzkoin charity events in India have centered around children and education. Kids in a school located in a remote village in India were given school bags, notebooks, lunch boxes, soap, toothbrushes and toothpaste. The children were also treated to their favorite snacks and fruit juices.
Glitzkoin CEO, Navneet Goenka personally attended the second charity event in Bombay. Provisions, towels, napkins and various foods were donated to a reputed orphanage and school in Bombay. The children were also treated to a sumptuous breakfast on the day of the event.
On being asked about future events, the diamond veteran was quick to reply, "We will surely keep organizing such charity events. While it is true that the rapid progress of the Glitzkoin project and the DiaEx diamond trading platform is keeping all of us very busy, we will ensure that time is set aside for such activities."
Glitzkoin: The project is focused on improving productivity and market scope for the multi-billion dollar diamond industry. Promoted by second generation diamond veteran Navneet Goenka, the project is built on latest Stellar blockchain technology. Besides a crypto (GTN) the project includes, a comprehensive diamond trading platform DiaEx. The platform supports diamond trade at all levels and uses the GTN token to settle payment. After successfully completing an ICO in June 2018, the project is ready to launch the DiaEx trading platform in Q2-2019. The GTN token currently trades on the Stellarport, Dobitrade and Cointiger crypto exchanges. At the time of writing this report, the GTN token is trading at around $0.25 which is 25% above its ICO closing price of $0.20.
Glitzkoin Updates:
https://glitzkoin.com/infopedia
Contact
Glitzkoin
Navneet Goenka
+60 104248192
https://www.glitzkoin.com

Contact