Best Western International Endorses FortisPay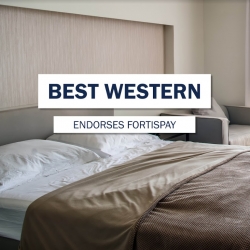 Novi, MI, June 27, 2019 --(
PR.com
)-- Best Western International has announced their official partnership with FortisPay (Fortis Payment Systems LLC) as the endorsed merchant services provider. This reflects the organization's strategic move to continue to offer superior payment processing and merchant services options for properties across the nation.
FortisPay is a leader in providing payment technologies to businesses for nearly two decades, predominantly focusing on the lodging space. The FortisPay Executive Team boasts rich knowledge of hotels and motels, having been property owners in the past. Best Western feels confident that their franchisees will be best accounted for in the hands of Fortis.
"We have been working with Best Western properties for over a decade and helping to identify their pain points, which in turn has made FortisPay an excellent fit for Best Western International," says Nirav Shah, President.
Key features that propelled FortisPay beyond the competition include, but are not limited to: an exclusive in-house Chargeback Mitigation Team, low rates, college-educated relationship managers, 24/7 White Glove Service Customer Support, as well as a highly regarded proven track record for helping hoteliers save money and boost business efficiency.
"We are very excited for the future of FortisPay as we continue to grow and work towards best-in-class service and technology to improve the overall success of both Fortis and Best Western," says Jimmy Nafso, CEO.
About Best Western Hotels and Resorts:
Best Western Hotels & Resorts headquartered in Phoenix, Arizona, is a privately held hotel brand with a global network of approximately 4,500 hotels in nearly 100 countries and territories worldwide‡. Best Western offers 16 hotel brands to suit the needs of developers and guests in every market. Best Western branded hotels include Best Western®, Best Western Plus®, Best Western Premier®, Executive Residency by Best Western®, Vīb®, GLō®, Aiden®, Sadie®, BW Premier Collection®, and BW Signature Collection®. Through recent acquisition, Best Western now also offers WorldHotels® Luxury, WorldHotels Elite and WorldHotels Distinctive brands. Completing its portfolio, Best Western offers SureStay®, SureStay Plus®, and SureStay Collection® franchises**. Now celebrating more than 70 years of hospitality, Best Western provides its hoteliers with global operational, sales and marketing support, and award-winning online and mobile booking capabilities. Best Western continues to set industry records regarding awards and accolades, including 66 percent of the brand's North American hotels earning a TripAdvisor® Certificate of Excellence award in 2018, Business Travel News® ranking Best Western Plus and Best Western number one in upper-midscale and midscale hotel brands respectively for two consecutive years, and Fast Company honoring Best Western Hotels & Resorts with a spot in the Top 10 Most Innovative Companies in the Augmented Reality/Virtual Reality category. Best Western has also won 10 consecutive AAA®/CAA® Lodging Partner of the Year awards, recognizing the brand's commitment to providing exceptional service and great value to AAA/CAA's nearly 60 million members in the U.S. and Canada. Best Western-branded hotels were top ranked in breakfast (food and beverage category) by J.D. Power's 2018 North America Hotel Guest Satisfaction Index Study – ranking first for midscale; and second for upper midscale. Nearly 40 million travelers are members of the brand's award-winning loyalty program Best Western Rewards®, one of the few programs in which members earn points that never expire and can be redeemed at any Best Western-branded hotel worldwide. Best Western's partnerships with AAA/CAA and Google® Street View provide travelers with exciting ways to interact with the brand. Through its partnership with Google Street View, Best Western is the first major company of its size and scale to launch a virtual reality experience for customers, setting a new industry standard and reinventing how guests view hotels.
About FortisPay:
Fortis Payments (FortisPay) provides products, services, and technology that rivals the largest credit card processors in the nation without losing the close, personal attention their merchants deserve. FortisPay has a focus in White Glove Service and a mission to help small and mid-sized businesses across the United States. FortisPay provides financial technology solutions to thousands of businesses throughout the country processing billions of dollars annually.
Contact
Fortis Payments
Kiley Diviney
248-465-9999
https://www.fortispay.com

Contact