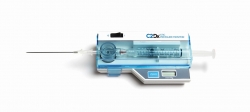 Kalamazoo, MI, June 28, 2019 --(
PR.com
)-- Critical Care Diagnostics (C2Dx) Inc., a medical device company focused on providing solutions for the unplanned, life-threatening medical needs of patients and healthcare providers, has been formed to provide medical professionals with a comprehensive range of products.
The C2Dx initial product line was acquired from Stryker, one of the world's leading medical technology companies. The Intra-Compartmental Pressure Monitor, also known as the STIC Monitor is considered the gold standard worldwide for diagnosing and managing acute and chronic compartment syndrome. This condition is associated with severe injuries arising from auto accidents, active sports, workplace occurrences, and battlefield injuries to name a few.
C2Dx was founded by Kevin McLeod and Plymouth Growth Partners, an Ann Arbor, Michigan based growth capital firm. The business is based in Schoolcraft, Michigan just miles from the original birthplace of the STIC Monitor product line. Kevin McLeod commented, "Our leadership team has extensive experience leading all phases of a Medical Device manufacturer. Acute and chronic compartment syndrome has been receiving renewed attention as the population ages and people are determined to stay active into their later years of life. Timely diagnosis and intervention can avoid unnecessary and expensive procedures. We are excited to bring together extensive regional resources to pursue C2Dx's mission."
About C2Dx
Critical Care Diagnostics (C2Dx) is a Kalamazoo, MI-based medical device company focused on providing solutions for unplanned, life-threatening medical needs in critical care. C2Dx will target acquisitions of and/or distributor relationships for high-margin, disposable products as well as orphaned and non-core products inside large companies that align with its product call points. C2Dx's initial product portfolio consists of a compartmental pressure monitor recently acquired from a large, publicly traded medical device manufacturer. For additional information, please visit C2Dx at www.c2dxinc.com.
About Plymouth Growth Partners
Plymouth Growth Partners invests in growth stage businesses throughout the Great Lakes region. With over 100 years of combined investing experience, Plymouth takes a flexible approach to partnering with management teams, helping to drive growth, build value and realize full potential. Plymouth focuses on B2B product and services companies that have scalable technology and proven growth. Based in Ann Arbor, Michigan, Plymouth Growth Partners has over $150 million under management and is actively investing out of its fourth fund. For more information on Plymouth Growth Partners and its investments, please visit www.plymouthgp.com.