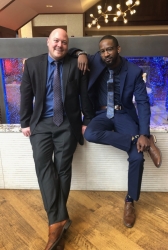 Charlotte, NC, June 29, 2019 --(
PR.com
)-- Dante Murchison, a native from Lansing, Michigan who started his career in Charlotte, North Carolina after graduating at Northwood University in Midland, Michigan Class of 2012 with a Business Management and Entertainment Sport Promotion Management Degree. Murchison started his career in business in Charlotte, NC where he was promoted to be a part of an expansion team in Wilmington, NC. Dante helped launched a campaign in Wilmington which granted him to open his own business practice in Columbia, South Carolina.
Murchison was chosen back in January 2019 to head a team into Morgantown, WV for a three client acquisition campaign. Murchison and his team successfully exceeded the company's expectations. "The Morgantown office was set up for success out the gate, We were overly prepared for the expansion. We are blessed to have such terrific clients they funded the rapid expansion into this market. Dante has done such a great job that's why we decided to make him a permanent part of our home office." - Poniatowski SVP
Brianna Phifer, Assistant Director of Murchison mentioned, "Being able to be a part of the fastest growing firm in the area has given me the ability to grow at a rapid rate. Not just in business but on a personal level. After Graduation, I wanted to grow personally and professionally in this company, Dante had given me all the tools to be successful and guided me with every step to be able to run a business. There's nothing more that I could ask when it comes to one on one mentorship. I can't wait to see the progress that we can make since we moved here in Charlotte, NC."
"We can't wait to see what the future holds for New Age Marketing since Dante and his team are back here with us. I've worked with Dante for a few years and I've learned so much from him. It gives us an opportunity to open doors for recruiting and giving chances to young entrepreneurs. We expect to run more campaigns and open four more offices for expansion by Spring of 2020." - Mariel Cody, Director of Human Resources New Age Marketing Inc.
New Age Marketing Inc. plans to add yet two more campaigns and expand into four more offices by Spring 2020 which gives more job opportunities for Charlotte and surrounding areas.