Announcing LEMPA - The Light Eros Muse Photography Arts Conference in NYC
LEMPA is the world's first and only conference dedicated to erotic, fetish and fine art nude photography. Special emphasis on models rights and best practices will be moderated by Marne Lucas. Reception party, full day of conference with mini-trade show and then limited student 12 hour workshop make LEMPA the leader in this genre.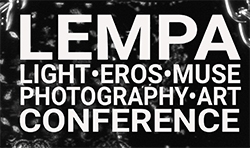 Manhattan, NY, July 22, 2019 --(
PR.com
)-- Suspect Photography is proud to announce the Light Eros Muse Photography Arts Conference aka LEMPACON; a three day event in NYC on October 4th, 5th, and 6th catering to erotic, fetish and fine art nude photography genre.
The LEMPA Conference mission is to elevate erotic and fine art nude photography by presenting the subject matter in a responsible and ethical manner.
Too often this subject matter has been associated with taboo and has been shunned by mainstream society and media as a result. LEMPA seeks to rectify this by giving leading photographers and models working in the genre, a platform to showcase their process and work while establishing a benchmark definition of the best practices while addressing the photographer-model issues of the #metoo age.
The founder of LEMPA Photographer David Brommer, combines his expertise in producing conferences with his history of running the maverick Seattle gallery, Suspect Photography in the 1990's. He states, "There isn't any conference like LEMPA, this genre needs to be brought forward and I curated the speakers to reflect the many facets of this genre."
Los Angeles based Steve Diet Geodde who is recognized as the leading fetish-fashion photographer for the past 30 years. His work is widely published in numerous books, magazines and sets a standard for photographers working in this genre hope to achieve.
Coonie Imboden's fine art nude abstracts are in the collections of every major museum in America. Her process is as unique as her style and resulting in emotionally deep images that take time to explore.
Vince Hemingson has perfected the nude in the landscape. By applying a technical craftsmanship and fostering a relationship between model, photographer and landscape his work blends beauty and form in a visually gratifying way.
Marne Lucas aka Cuntemporary Artist has worked both sides of the camera. From fashion and fetish model to video director she crossed many creative boundaries. Marne will be moderating the models and muse panel where the model's voice will be front and center.
The LEMPA Conference is a three day event in the heart of NYC. LEMPA commences Friday night, October 4th with a party and exhibition of the speakers work in a SoHo gallery. On Saturday, October 5th the conference continues at the Fashion Institute of Technology's Katie Murphy Auditorium for a day long program of lectures, slide shows and panel discussions as well as a mini-trade show, book signings, and photo opportunities. For a special few LEMPA is offering a full day of hands-on workshops on Sunday October 6th with curated models in locations across NYC under the guidance of LEMPA speakers and special instructors. Sunday's workshop is limited to under 24 attendees.
Digital Silver Imaging, internationally recognized for their museum quality printing is the exclusive print partner of the LEMPA Conference. Eric Luden, DSI's founder states, "We don't just fill orders, we collaborate with our customers to bring their vision to life. We understand and respect the special needs of erotica photographers and collectors. We are proud to offer our services to this niche market." Friday's nights reception will feature a DSI printed exhibition of speakers work.
Tickets are on sale now for LEMPA. Visit LEMPACON.com
Contact
Suspect Photography LLC
David Brommer
917-294-0420
lempacon.com

Contact