The Peter Benchley Shark Conservation Awards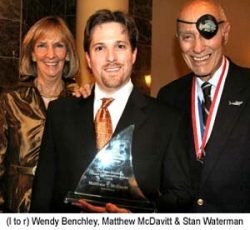 Princeton, NJ, April 02, 2008 --(
PR.com
)-- The Shark Research Institute created the Peter Benchley Shark Conservation Awards to honor the memory of the late Peter Benchley, and spotlight those who are working internationally to protect sharks as valuable ocean resources. The first of the 2008 Peter Benchley Shark Conservation Awards, sponsored by Rolex, was presented by SRI President Stan Waterman and Wendy Benchley to Matthew T. McDavitt on March 29 at an Award Ceremony hosted by Beneath The Sea (www.beneaththesea.org). The ceremony was attended by celebrities and marine conservationists from around the world including Dr. Sylvia Earle, National Geographic photographer David Doubilet, and marine artist Wyland.
Sawfish fins are among the most valuable in the shark fin trade. In US waters, these rays once ranged from New York to Texas. Critically endangered, their numbers have declined by 99%; today they are only found in a few marine reserves in Florida. For more than a decade Matthew T. McDavitt, an estate lawyer from Virginia, worked on his own to gather data on the international sawfish trade. In 2006, his data convinced eBay to prohibit sales of small-tooth sawfish rostra on their website. In 2007, his comprehensive fully-referenced 40-page overview of the trade enabled the USA to successfully propose sawfishes for protection at the Convention on International Trade in Endangered Species (CITES), making them the first elasmobranch fishes (and the only Family of elasmobranches) listed on CITES Appendix I.
The Peter Benchley Shark Conservation Award for Media will be presented in June in Manila, Philippines at Celebrate the Sea, the largest Imagery festival in the Asia Pacific region. The festival, which runs from June 13 to 15, will be attended by marine photographers and filmmakers from around the world, and Gloria Arroyo, President of the Philippine Republic.
"Peter Benchley was much more than the Shark Research Institute's benefactor, a colleague and friend, he was an eloquent advocate for shark conservation," says Stan Waterman. In the 1970s, Benchley's fictional best-seller, "Jaws" -- which Spielberg made into a blockbuster movie -- generated a fear of sharks simply because so little was known about them. By the 1980s, that fear had given away to curiosity, resulting in an unprecedented amount of research on sharks. "When sharks became target species for Asian markets in the 1990s, scientific data were available to combat threats to sharks — data which existed due to the fascination in sharks that Peter had generated," said Captain Stephen D. Nagiewicz, Chair of the Shark Research Institute Board of Trustees. "Peter was an eloquent spokesman for shark conservation."
The Shark Research Institute (SRI) is an international multidisciplinary non-profit organization headquartered in Princeton that sponsors and conducts research on sharks and promotes the conservation of sharks. SRI works to correct misperceptions about sharks and halt the slaughter of up to 100 million sharks annually. One conservation method used by SRI is creating value for sharks as sustainable natural resources for the tourism industry, particularly in developing countries. By so doing, steady revenue streams are generated for local fishers that might otherwise slaughter the sharks for immediate gain. SRI has the oldest and largest whale shark tracking program in the world. Other programs include satellite and radio telemetry, behavioral and DNA studies of sharks, environmental advocacy, publications and public education. www.sharks.org
###
Contact
Shark Research Institute
Marie Levine
609.921.3522
www.sharks.org

Contact