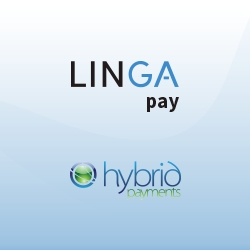 Naples, FL, July 25, 2019 --(
PR.com
)-- Hybrid Payments has been acquired by Linga, a leader in cloud-based restaurant software technology, and developers of the rOS™ (restaurant and retail operating system). As such, their name will be changing to Linga Pay. The announcement reflects the company's broader commitment to driving the innovations needed to shape the future of restaurant and retail management and payment processing.
As a result of the acquisition, Linga Pay will now provide their robust and fully integrated payments solution for merchants as part of the Linga rOS™ platform. As a premier provider of secure, cost effective, and high-speed payment options, Linga Pay is excited to serve as the card and payment processing component for Linga rOS™. Offering same-day business funding options, a cloud-based gift and loyalty program, online ordering, texting, marketing, inventory control, kiosk, payroll, accounts payable, waitlist, reservation, and others. It will give merchants the power to track their restaurant's performance beyond the limits of a traditional POS system.
To facilitate the many changes that are underway, Linga Pay will immediately begin providing competitive offers to existing clients, including programs that require no upfront costs to upgrade. Candidates can also qualify for upgraded hardware and support options.
Linga CEO, Onur Haytac, stated, "I am excited to offer customers the industry's first cloud-based complete restaurant retail operating system. With Linga rOS™, business owners will have every tool they need to run their business on any device, in one system."
Linga is an innovative global technology company serving the hospitality industry since 2004. For over 14 years they have offered businesses a powerful and reliable platform with a full array of cloud-based front and back office management tools. In addition to payment processing, the newly announced platform includes: Loyalty, Online Ordering, Scheduling, Kiosk, Call Center, Central Kitchen, Inventory Management, Waitlist, Payroll Management, Accounts Payable and others.
Linga Pay, formerly Hybrid Payments, is a registered ISO of Wells Fargo offering full-service payment options for retail, restaurant, service industries, nonprofit, healthcare and others.