The Running of the Bulls 2020, Eight Days of the Encierro
Iberian Traveler offers Exclusive Packages for the Running of the Bulls in 2020. Join Iberian Traveler for an unparalleled experience; the opening ceremony, "el chupinazo," the running of the bulls each morning beginning July 7th, and the "pobre de mí," the solemn candlelight ceremony at midnight on July 14th marking the end of the fiesta.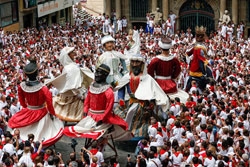 Seattle, WA, August 04, 2019 --(
PR.com
)-- The fiesta begins at noon on July 6th with the opening ceremony, "el chupinazo." The rockets exploding over the town hall announce the start of the world-famous 9-day festival.
Standard Packages Include:
- Accommodations at our specially selected hotels in the city center or old quarter.
- Private Transfer from Pamplona's airport or train station to your hotel.
- Private transfer each morning for the running of the bulls.
- Watch the encierro from the comfort of one of our premium balconies, or run with the bulls.
- Special breakfast following the running of the bulls. Remember, it's always Bulls Before Breakfast!
- Souvenir "panuelico" (red bandana) from Peña Seattle de Sanfermines, one of the 16 official foreign Peñas in Pamplona.
- Hotel Taxes.
Deluxe Packages are available for the opening days of the fiesta. Contact Iberian Traveler for additional information and availability.
Contact
Iberian Traveler - Maribel's Guides
PJ Ross
206-861-9008
iberiantraveler.com

Contact