towSearch.com Adds 10,000 Towing Providers and Sees a 29% Increase in Searches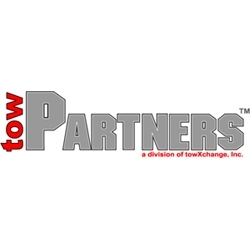 Keller, TX, April 03, 2008 --(
PR.com
)-- towPartners® today announced that it has added more than 10,000 service providers to its free towing and road service provider locator tool in the first quarter of 2008. The addition of so many service providers comes alongside a new interface for users which improves search results. In the past quarter towSearch has also seen a 29% increase in searches for service providers and a tremendous increase in towing company feedback on having received paid calls from the system.
It is reported that the system now has nearly 30,000 companies registered and towPartners reports that thus far over 1,000 members have opted-in to provide a 10% discount to first time customers using towSearch. It is expected that this number will increase by 50% or more in the second quarter.
towPartners has the most powerful network in the towing and road service industries with well over 30,000 members. The powerful towPartners database is updated by the members regularly to include new equipment offerings and capabilities information. Thousands of these updates are made every month. This provides towPartners with the most accurate data available regarding the capabilities of the towing and recovery industry nationwide.
"We are pleased to have had so many members opted into the towSearch system recently. We welcomed a record number of new members in the first quarter and we are hearing about members receiving new call volume from towSearch," stated Jeffrey Godwin, Vice President of towPartners. "We have plans to further expand this system as we work for the industry."
The towSearch tool is currently averaging hundreds of searches per day by motorists, fleets and others needing to find automotive service providers. The towSearch directory of companies is a free tool searchable by fleet managers, the general public, automotive repair facilities and anyone needing road services. towSearch works from any internet connection or internet enabled cell phone.
towSearch is a free tool from towPartners. From vehicle towing to roadside service,
www.towsearch.com
can help you search for the best providers anywhere in the United States. Please let them know about your experiences with their site at
towSearch@towpartners.com
.
About towPartners
towPartners is a division of towXchange, Inc. and is the leading provider of benefits to the towing and recovery industry. towPartners improves vendor relationships and the bottom line at towing and road service providers nationwide. The towPartners program provides better pricing and quality service to towing and road service companies of all sizes as well as to those employed in the industry. The towPartners program currently has over 30,000 towing company members. To learn more about towPartners, visit
www.towpartners.com
.
###
Contact
towPartners
Jeffrey Godwin
817-379-0637
www.towpartners.com

Contact