Canadian & Caribbean Leaders Meet to Advance Medical Tourism for North Americans
Nearly 100 Canadian and Caribbean government, healthcare and business leaders met this week to discuss how Caribbean medical tourism can be developed to serve North Americans' healthcare and vacation needs. Held in Bridgetown, Barbados, the "Caribbean Health & Wellness Tourism" meeting was sponsored by Caribbean Export and Trade Facilitation Office Canada.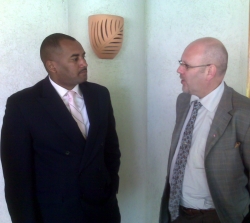 Winnipeg, Canada, April 04, 2008 --(
PR.com
)-- With North American health costs rising, the governments of Canada and several Caribbean nations are exploring how Caribbean medical tourism can be a smart solution for providing access to high quality and affordable health care. Health costs in the Caribbean are about 50 to 80 percent less than in Canada and the U.S., medical experts say.
The Trade Facilitation Office Canada (TFO Canada) and the Caribbean Export Development Agency (Caribbean Export) hosted a major international meeting, "Caribbean Health & Wellness Tourism" in Bridgetown, Barbados on April 1-2. Attracting leaders from Canada and 10 Caribbean nations, the meeting explored ways that these countries can work together to develop Caribbean health and wellness services for use by North American consumers.
Barbados Minister of Tourism, the Honourable Richard Sealy, told the audience of about 100 people that his island nation needs to exploit the US$40 billion health and wellness industry.
"It (health and wellness tourism) is growing at a much faster rate than global tourism - which is the fastest growing industry in the world - so we need to add the health tourism niche to our other tourism offerings," said Minister Sealy.
Barbados Minister of Health echoed his colleague's sentiments.
"Barbados' long standing relationship with Canada, our proximity to North America, and our first rate healthcare services and facilities, give us an opportunity to become the Caribbean region leader in Health Tourism," said the Honourable Minister Estwick.
TFO Canada was very pleased with the meeting's outcome.
"North America's demand for health and wellness tourism is going to explode in the years to come, and the timing could not be better to make sure that the Caribbean is a primary destination," said Diane Girard, TFO Canada Senior Associate and Service Sector Specialist. "We were absolutely delighted with the meeting. This will help pave the way forward for development of this important, new industry."
Winnipeg-based Choice Medical Services, a leading medical tourism firm serving North American consumers, was one of the event's main participants.
"In my talk, I explained what our international patients' actual experiences have been as they received medical care in foreign countries," said John Stinson, CEO of Choice. "For many of the Caribbean officials, it was the very first time that they heard what patients want as far as quality of care, capabilities and experience of medical professionals, and their travel needs."
Stinson added, "The Caribbean is a wonderful and welcoming oasis for not only its professional healthcare and wellness services, but also its relaxing, tropical vacation options. I have been most impressed and believe that Choice will add at least one or two Caribbean treatment destinations for our patients to choose from by the end of the year.
International health experts from as far away as Asia spoke at the event.
"The Caribbean is well poised to be successful, but till now nobody was doing much about it" as far as developing the medical tourism industry, said Dr. Jacob Thomas, Group Medical Advisor, Subang Jaya Medical Centre, Subang Jaya, Malaysia. Dr. Thomas shared case studies of how Malaysia's medical tourism industry has grown from its start in 2002, to today serving 400,000 international patients annually.
Looking ahead, TFO Canada's Girard said the Caribbean nations may form a governing body to help oversee development of this fledgling and promising industry. Among the Caribbean nations that could join in are Barbados, Antigua and Barbuda, Bahamas, Belize, Dominica, Dominican Republic, Haiti, Grenada, Guyana, Jamaica, Saint Lucia, St. Kitts & Nevis, St. Vincent & the Grenadines, Suriname and Trinidad and Tobago.
Phillip Kelly, Project Manager of TFO Canada said the Barbados meeting was part of a broader ongoing Canadian-Caribbean initiative to foster advancement of various industries in the developing Caribbean nations.
Survey Finds Strong Consumer Interest in Medical Tourism
Consumers have a strong interest in medical tourism, based on the results of the new 2008 Survey of Health Care Consumers, issued by the Deloitte Center for Health Solutions. The survey taken of more than 3,000 consumers nationwide found that nearly 40 percent would consider having an elective procedure performed in a foreign country if they could save 50 percent or more, and be assured that the quality was equal to or better than what they have in the U.S.
Other survey highlights are: 51.1 percent of "Generation Y" members (born 1979 to 1999), 41.9 percent of "Generation X" members (born 1960 to 1978), 36.7 percent of Baby Boomers (born 1946 to 1964), and 29.1 percent of Seniors would engage in Medical Tourism. Asians and Hispanics are especially open to Medical Tourism. 56.8 percent of Asians and 51.1 percent of Hispanics are likely to go abroad for medical treatment, compared to 37.8 percent of Caucasians and 36.9 percent of African-Americans. 40.1 percent of those with commercial health insurance would obtain medical treatment in another country.
Since 2007, Choice Medical Services has been providing safe, high quality and affordable medical tourism services to patients from North America and worldwide. Today, the company offers medical care and vacation options in Canada, Costa Rica and Cuba. To learn more about Choice, visit its website at www.choicemedicalservices.com or call toll-free 1-866-672-8284. (Calls from outside the U.S. and Canada, 204-927-3721.)
For more information on the 2008 Survey of Health Care Consumers, visit:
http://www.deloitte.com/dtt/article/0,1002,sid%253D80772%2526cid%253D193730,00.html
###
Photo Caption:
Barbados Minister of Tourism, the Honourable Richard Sealy (left) meets with John Stinson, CEO of Choice Medical Services, a leading medical tourism firm, at the recent "Caribbean Health & Wellness Tourism" meeting in Barbados. Both were speakers at the meeting attracting government, healthcare and business leaders from 10 Caribbean nations and Canada.
Contact
Pirages Communications
Michael Pirages
773-769-1616
www.piragescom.com

Contact