Nominated Short Film About Halloween and Cultural Appropriation/Racial Issues Just Launched Online
A dramedy short film about Halloween, cultural appropriation, and racial issues launches on Vimeo online.
Los Angeles, CA, October 12, 2019 --(
PR.com
)-- "Bag Of Worms," is a dramedy short film about a Halloween Party that turns south when the issue of race and cultural appropriation comes up amongst friends. Produced by Idylwild Pictures, it just launched online on Vimeo at
vimeo.com/365591074
"Bag Of Worms" is directed by Grace Rowe, produced by Elizabeth Mihelich, and executive produced by Pedro Pascal. It stars Grace Rowe ("Unbelievable"), Michael Jaworski ("I Am That Girl"), Phong Le ("This Is Us"), Katy Erin ("Galpals"), Cooper Barnes ("Henry Danger"), Cassandra Blair ("Westworld"), Nicholas A. Goldreich ("A Good Life"), David Craze ("Paranormalcy"), Walter Harris ("Disaster Movie"), Jeff Torres ("Vast"), and Stephen Wu ("The Night Watchers").
Nominated for Best Ensemble Cast by the Austin Comedy Short Film Festival, and for Best Director from the Atlanta Women's Comedy Film Festival. It had its L.A. premiere at the Los Angeles International Short Film Festival and will be playing at the Georgia Shorts Film Festival on November 10, 2019.
To learn more about the filmmakers and their upcoming projects, visit idylwildpictures.com
Contact
Idylwild Pictures
Grace Rowe
323-469-1573
www.idylwildpictures.com

Contact
Multimedia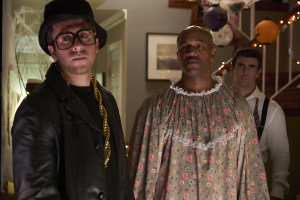 Photo still from "Bag Of Worms" short film of actors Nicholas A. Goldreich, Walter Harris, and Cooper Barnes (from left to right). Photo credit by Tina Thorpe.