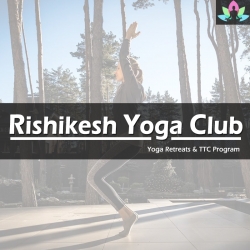 London, United Kingdom, October 23, 2019 --(
PR.com
)-- Uttrakhand, India is set to witness a power-packed 200 hour
yoga course in Rishikesh
that will unveil beneficial prospects. This training session strikes a balance between life and meditation practices to exercise positive energies. Taking a 200 hour course is meant to combine internal energies for the progression of body and soul.
As per the course, the students will learn two prominent styles of Yoga – Hath Yoga and Ashtanga Yoga in the initial phase. In addition to this, human anatomical sessions will demonstrate its applicability to the science of Yoga. Yoga has been practiced for ages and is responsible for developing a healthy mindset as well as a vigorous body.
The adjustment and alignment session will introduce the student to different forms of Yoga asanas. This knowledge is imparted to prevent and manage injuries while performing asanas and fine-tuning the body further. Along with the body, the mind is strengthened to ameliorate cognitive thinking. As the program advances, the students will experience utmost rejuvenation, without a doubt. Every Yoga asana triggers flexibility and vitality in the body.
Besides gaining intensive knowledge of Yoga asanas, the students are taught ethics and principles governing intellectual aspects of Yoga in Philosophy classes. The 200 hour Yoga course also enables students to learn the art of breath control and utilize it for instilling spiritual energy within the body. Such practices are accompanied by Pranayama and Meditation therapies for refining overall dynamism.
The
200 hour Yoga teacher training
course encourages students to indulge in self-practice sessions to fine-tune the technicalities learned in the course. These practice sessions are held on Saturdays and Sundays under the effectual guidance of highly experienced Yoga teachers. Yoga has always been the backbone of a healthy lifestyle. It is practiced with the objective of energizing and empowering the body and mind. Practicing Yoga skills will nurture talent within the student and imbibe them with confidence to train further. These sessions are taken to eradicate flaws and attain perfection in terms of Yoga postures.
Apart from providing ample knowledge on Asanas, Yogic philosophy and therapies, the 200 hour yoga teacher training program in Rishikesh offers practical insight into healthy eating habits. It is essential to observe Yogic food recipes that purify your body, mind and soul. Indeed, it prepares the body to function effectively and fight away the signs of various diseases. This course is surprisingly beneficial for people who wish to experience enrichment in life by exercising control over their senses.
Rishikesh in Uttrakhand, India is a picturesque spot nestled in the lap of lush green mountains. The spic and span environs of the place adds to the brilliant experience of learning Yoga. This practice will always help people in attaining a strong mental balance and a healthy body. With the natural background set for Yoga practice and training, Rishikesh is an ideal choice. Moreover, its natural beauty is par excellence. After all, learning the goodness of Yoga amidst nature will empower students to practice better living habits.