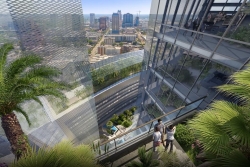 Miami, FL, October 23, 2019 --(
PR.com
)-- Ponte Health Properties, LLC, developer of the geriatric-focused high-density high-rise project Vertical Medical City - Orlando, and the planned Vertical Medical City - Chicago in addition to various other locations nationally and internationally, gains momentum for additional $2.1B 90+ stories development in the Bayfront Park vicinity, in Downtown Miami.
In Orlando, Vertical Medical City was approved last December 2018 by the Federal Aviation Authority (FAA) to become the tallest downtown structure in the Orlando Central Business District at 444 Feet, and was approved in July 2019 by the City of Orlando Commission and all other required boards unanimously, to proceed to construction.
Design Principal Dan Kirby at JACOBS Buildings, Infrastructure and Advanced Facilities Design, partner of the development serving as Master Plan lead and Architect of Record, states project concept is to "form an optimal high-touch and high-tech environment for the promotion of healthy living and aging-in-place." Read the complete statement in the JACOBS Newsroom:
https://www.jacobs.com/newsroom/news/technology-and-sustainability-unite-help-seniors-thrive-urban-setting
For its new development to serve more seniors and the Southeast Florida community from the new Miami-Dade location, site which remains undisclosed, Ponte hopes to begin to make a meaningful and positive difference for an underserved group, and continue to serve its core mission as a company "to Help Expand the Healing Community."
Vertical Medical City in all of its locations is a complex mixed-used geriatric-focused project which includes Residential IL / MC Units, Urgent Care, Medical Office and Outpatient Surgery and Services Spaces, Urban Farming, and Research and Development spaces.
For more information, interested parties can email the project via : verticalmedicalcity@icloud.com