The Nation's Smartest Fire Station Opens in Kansas City, Missouri
When the City of Kansas City Missouri was ready to build it's first new fire station in nearly a decade, they did so with firefighter safety and environmental sustainability at the forefront. A Smart Building was the answer.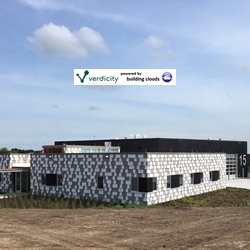 Union City, CA, November 05, 2019 --(
PR.com
)-- When the City of Kansas City Missouri was ready to build it's first new fire station in nearly a decade, they did so with firefighter safety and environmental sustainability at the forefront.
The new station is a pilot in the KC Smart Sustainability Program, part of their Emerging Technology Initiative for Smart Cities. Fire Station 15 meets their requirements of "capitalizing on smart technology in order to elevate sustainability and human health outcomes appropriate to a building's operation, location and budget."
Building Clouds partnered with Verdicity, the marketplace for smart buildings, to provide the necessary hardware, software, and technical expertise to make this project a reality. The building is outfitted with IoT sensor technology intended to reduce the firefighters' exposure to harmful airborne carcinogens which can be released during a fire by continuously monitoring the indoor environment and apparatus bay.
Sustainability is further achieved through control of state-of-the-art HVAC systems, monitoring energy usage, and water reclamation systems. The Smart Building System provides a unified way for occupants and City Administrators to view and control the station's building conditions from a secure online App.
Building Clouds designed, assembled, and delivered a turn-key "Parts & Smarts" solution complete with Internet connectivity. Installation support, software development, and systems commissioning were all completed remotely from our office in California. Ongoing remote monitoring and support through our BMS Assurance Program ensures the fire station's systems are performing as designed.
The new station has drive-through engine bays, living quarters for two captains and 10 firefighters, a kitchen, dining area, fitness center, restrooms and showers. A decontamination area adjacent to the App Bay helps to ensure contaminants are not introduced into the living spaces.
Data sheets and more information regarding Building Clouds' Opendiem software and compatible hardware products are available on their website, buildingclouds.com and strati-fi.com
About Building Clouds, LLC
Building Clouds is changing the way building systems connect, share data, and make intelligent real time decisions.
We provide complete hardware and software solutions for Building Automation and Energy Management Systems that seamlessly integrate data generated from building services and industrial processes into a simple easy to use web-based interface accessible anywhere, anytime. Based on proven communications standards, Opendiem is fluent in most building management and industrial control system protocols. Product details can be found at buildingclouds.com.
About Verdicity, The Marketplace for Smart Buildings
Verdicity helps commercial building owners, operators and occupants unlock the value of their real estate by figuring out how smart their buildings can be, managing their portfolio all in one place, and enabling their built assets to participate in new marketplaces.
​Verdicity's founding team has outfitted over 1,000 buildings with building information systems that integrate Total Cost of Ownership into one view, helping improve performance, energy, space and operational efficiency, and overall value.
Verdicity is committed to bringing open, honest and cost effective smart building solutions to people and buildings around the world. Product details can be found at verdicity.com.
Building Clouds, Opendiem, and their associated logos are trademarks of Building Clouds, LLC. Other product or service names mentioned herein are the trademarks of their respective holders.
Contact
Building Clouds
Bob Wallace
866-580-3579
www.buildingclouds.com
@bldgcliouds
@stratifi
https://www.youtube.com/channel/UCGwFn0sk1CVoCYRHcAbSWKw

Contact