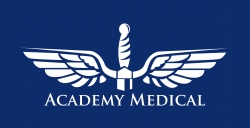 West Palm Beach, FL, November 05, 2019 --(
PR.com
)-- Academy Medical announces that their vendor partner, Stryker's product Clarifix has been added to their DoD DAPA contract. Through Academy Medical's contract, Stryker will market their ClariFix cryotherapy device for chronic rhinitis. The ClariFix Device is a hand-held cryosurgical tool that provides focused, controlled freezing of target tissue under direct visualization, and is the first device cleared by the FDA for the treatment of chronic rhinitis. With 4 out of 5 patients reporting long-lasting improvement in congestion and rhinorrhea, ClariFix provides a low risk, durable, and efficient treatment option for adult patients with chronic rhinitis.
"We are thrilled to have yet another conduit to enable access to the latest technology in the treatment of chronic rhinitis to our active military and their families. Our partnership with Academy Medical continues to grow and we look forward to servicing our service men and women," said Ben Coleman, Director of Business Development.
Academy Medical's goal is to provide the most advanced medical and surgical products to help the federal government ensure the best healthcare possible for veterans, active military members, and their families. Academy Medical works with their extensive network of vendors to provide access to government contracts and open sales channels, thus ensuring the most advanced technology is readily available to government clinicians and medical facilities across the country.
To learn more about the Clarifix Device, please visit: www.Clarifix.com.
For more information about Academy Medical, their services, and their vendors, visit our web site: www.academymedical.net, call (888) 860-0561, or email: info@academymedical.net.